Speaking at the fifth Women: Inspiration and Enterprise (WIE) awards - an event to honour women who have used their influence as entrepreneurs to make a difference to the lives of others - issues of inclusivity and equal opportunities were at the forefront of most attendees' minds.
"I think it would be racial diversity. Black, white, Asian, just put them in there, different colours."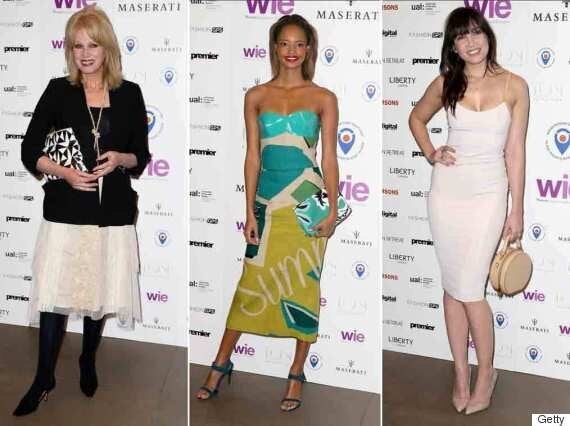 Lowe felt that the issue of body confidence needed addressing:
"If there was a way of making all women feel really good about themselves all the time, then that would be the change I want to make… somehow, that's it."
And Lumley teased that she would shift the industry's key demographic:
"I would say quite stout middle aged women should be absolutely the rage – that's me," she said.
"Flat shoes will become the norm and probably enormous elastic topped trousers. Actually I've gone a bit far now haven't I?"
But she added: "I love fashion. I think fashion is fantastic.
"It isn't just for the young and skinny because we all look at bits of it and think well I couldn't do that, but I could do that."
Lumley, Lowe and Firth had just watched a fashion show debuting the 'Legacy Collection' from the LDNY Foundation - a charity that helps young people from lower income families gain entry into the creative industries.
Following the show Aldijana Sisic, chief of the UN trust fund to end violence against women, took to the stage to give a speech about her involvement with WIE.
"I'm terrified, this is not a place for a UN bureaucrat," she said in a speech during the awards ceremony, referring to the audience of celebrities including David Gandy and Mollie King.
"It's personally important for me that I'm here tonight as I'm a success story of British immigration," added the Bosnian born "bureaucrat".
"I was given an opportunity and I'm proud to represent Britain at the UN.
"The UN Trust Fund to End Violence against Women is gratefully grateful to be involved in this celebration of diversity of womanhood.
"Thanks to this partnership many more women and girls will walk tall, beautiful and happy towards their lifetime opportunity."
Miriam González Durántez also gave a speech - although she admitted the timing of the event, just 10 days before the general election did mean she ran the risk of annoying some of her husband Nick Clegg's political advisors by attending.
But she wasn't going to let that stand in her way:
"I prefer risky ground to political advisors," she joked, before explaining that the event was important to her because she feels this is "the century of gendered rights," a time to make a change to the world for women and girls.
"I believe in women speaking up and women inspiring a whole generation of women, no matter what their background," she said.
"We should ask young girls to not only dream high, but to work hard, because no matter how high you dream nothing happens without hard work."
Campaign Award: Joanna Lumley OBE, actress, author and activist.
Community Award: Jenny Holloway, founder of Fashion Capital.
Contribution Award: Dame Zaha Hadid, architect.
Creative Vision Award: Charlotte Stockdale, stylist and creative director.
Education Award: Professor Frances Corner, head of London College of Fashion, UAL.
Enterprise Award: Natalie Massenet MBE, executive chairman and founder of the Net-a-porter group and chairman of the British Fashion Council.
Equality Award: Sandra Kerr, CEO race for equality.
Generation Award: Poppy Noor, activist.
Exemplar Award: Malaika Firth, model and philanthropist.
Innovation Award: Danielle Anderson, digital strategist.
Inspiration Award: Baroness Gail Rebuck, chairwoman at Random House.
Lifetime Achievement: Irene Sinclair, oldest woman in the UK, who starred in a Dove advert aged 96.
Outstanding Achievement: Baroness Vadera, chair of Santander UK.
Social Enterprise Award: Karen Lynch, CEO Belu Water.
WIE Celebrate Award: Mary Alice Malone, founder of Malone Souliers.
Watch the video below to see what Lumley had to say when we caught up with her after the awards: