An 18th Century mansion has been left a "shell" but some of its valuable historical artefacts have been saved following a devastating fire, the National Trust's director-general said.
Dame Helen Ghosh said the interior of the Grade-I listed, National Trust-run Clandon Park House had been left 100% smoke and fire damaged by the inferno.
And only one room within the Palladian mansion near Guildford, Surrey, is believed to have been left relatively untouched by yesterday's fire, she said.
As she visited the site today, Dame Helen said: "The house is essentially a shell, with most of the roof, lintel and the ceiling and floors fallen into the bottom of the building.
"It's a very upsetting sight to anyone who loved this wonderful and historic building."
She added: "We have saved some significant items but certainly not everything that we wanted to save."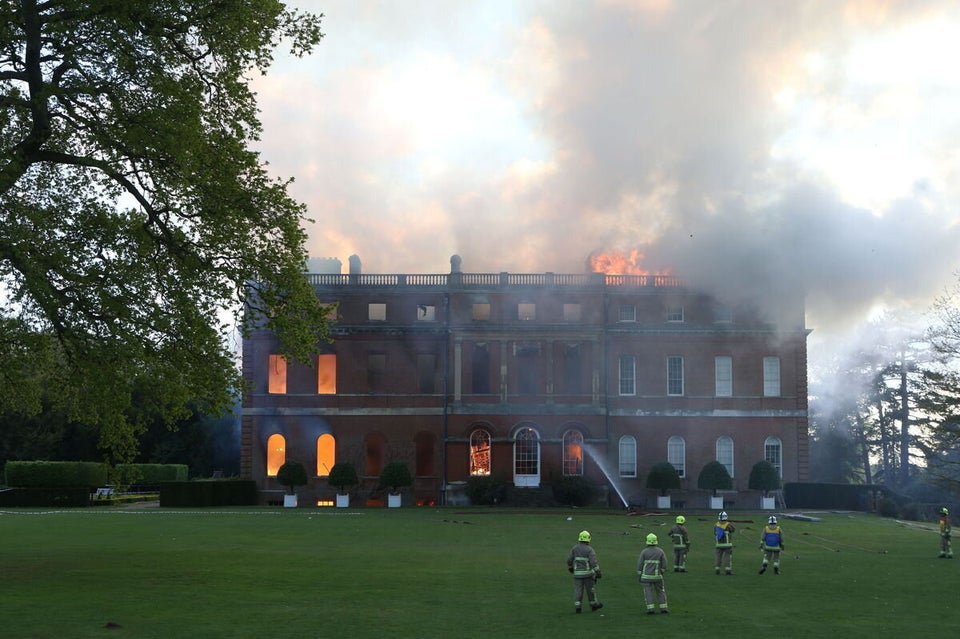 Clandon Park Fire
Around 80 firefighters tackled the blaze at its height, which sent flames shooting into the sky and stacks of dense black smoke belching out.
Staff and volunteers were safely evacuated when the alarm was raised just after 4pm yesterday, and structural engineers were due to visit the property later.
The fire is believed to have started in the basement before spreading through voids to the roof space. Fire officials have refused to confirm speculation that an electrical fault might have caused it.
Dame Helen said it was too early to say what the future holds for the property, which was used in the 2008 drama The Duchess starring Keira Knightley.
But the experience of National Trust team members who helped in the aftermath of a fire at one of its properties in Suffolk in the 1990s would be used, Dame Helen said.
She said: "There is perhaps one room that is relatively untouched but, other than that, the interior is extensively damaged. The external walls are still standing."
As embers continued to glow inside the building, Dame Helen praised the "brilliant" work of Surrey Fire and Rescue Service, as well as staff, volunteers and locals who rushed to help.
She said: "We have a very well-rehearsed plan to get key items out of houses. We have saved a certain amount of the contents but until we have got a chance to assess we can't really say how much."
Clandon Park is a popular wedding venue and the fire has impacted on the plans of some looking forward to holding their big day there.
One of those affected is IT consultant Peter Page, who was due to get married there next month.
He posted on Twitter: "So sad about Clandon Park. Due to get married here on 30th May. Can any wedding venues in Surrey let me know if they have any availability?"
Another person affected, Mark Nickols, posted: "My brother was supposed to be getting married at Clandon House on Friday. We now have 24 hours to plan a wedding."
Dame Helen said one wedding was due to be held tomorrow, and a team was contacting the bride, neighbouring properties and the registrar about alternative arrangements.
"From now it will be a slow process of an investigation by the fire service and then by our own specialists, and taking time about the future," she went on.
Roger Childs, of Surrey Fire and Rescue Service, said the intensity of the flames burnt away floorboards and ceilings.
He told BBC Radio Surrey: "The fire originally started, we believe, in the basement, and because it's Grade-I listed, the fire spread through these uncontained voids and it quickly spread through to the roof.
"The original crews on the scene had to deal with a developed fire as soon as they got to the scene. It's significantly damaged across the whole of the building."
Managed by the National Trust since 1956, Clandon Park was built in the 1720s and contains a large collection of 18th century furniture, porcelain and textiles.
Popular in the Community