A couple from Calgary, Canada, put their house up on short-term rental site Airbnb to try and get a bit of extra cash - but they ended up with trash.
Mark and Star King rented their home to four adults for a weekend, but were shocked to hear from their neighbours that the police were at their house halfway through the weekend.
The four renters had thrown a huge party and left their house completely trashed, full of rubbish and with many items broken or destroyed.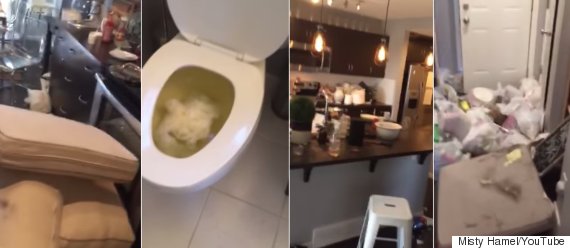 The extent of the damage is thought to be $75,000 (£40,500), which the Kings hope will be covered by Airbnb.
"I had my fair share of party days and I've never been privy to something like this," a local police officer said. "This is disgusting."
A spokesperson for Airbnb told HuffPost UK: "We have zero tolerance for this kind of behavior and our team is working quickly to make this right.
"We have banned this guest from Airbnb, and our Trust and Safety team will offer its full assistance to law enforcement in any investigation of this incident.
"We have been in very close contact with these hosts and we are working quickly to reimburse them under our $1 Million Host Guarantee, which covers a host's property in the rare event of damages. Over 35 million guests have stayed on Airbnb, and property damage is extremely rare."
The California based company describes itself as "a trusted community marketplace for people to list, discover, and book unique accommodation around the world".
SEE ALSO:

How to Stop Your House Party Getting Out of Hand