Five new people have been given writing credits on Mark Ronson and Bruno Mars's recent collaboration, 'Uptown Funk', following a recent dispute.
SEE MORE:
The track, which topped the UK singles chart when it was released last year, now has a whopping 11 co-writers, including the recently-added members of Gap Band.
If you can't put your finger on why the name Gap Band sounds familiar, perhaps when we tell you they're responsible for the emotional tear-jerker 'Oops Upside Your Head', things will make a bit more sense.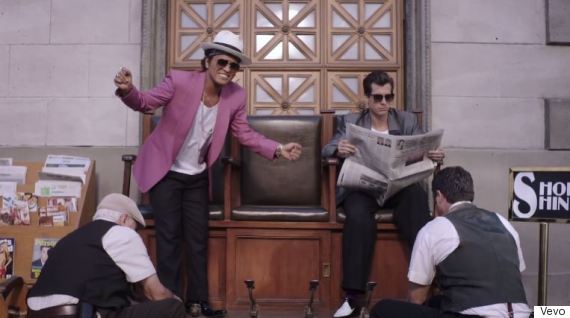 Mark Ronson and Bruno Mars in the 'Uptown Funk' video
According to Billboard, a claim was put forward by Minder Music on behalf of the 'Oops Upside Your Head' documents, while new papers filed by RCA Records - Mark Ronson's label - indicate that they're now classed as co-writers on the track.
Nicholas Williams and Devon Gallapsy, who were already on the list of co-writers, receive a credit because 'Uptown Funk' contains a sample of their song, 'All Gold Everything'.
Check out the similarities between the two tracks for yourself below - particularly from the 2:54 mark, where the 'uptown funk you up' breakdown kicks off:
Robin Thicke and Pharrell Williams were recently met with a lawsuit over their track 'Blurred Lines', when Marvin Gaye's family claimed the song plagiarised his track 'Got To Give It Up'.
The pair were fined £4.8 million back in March, while Marvin Gaye's family are now seeking an injunction against 'Blurred Lines', which will give them leverage to negotiate for royalties and other concessions such as songwriting credits.
Similarly, earlier this year, Sam Smith was forced to give Tom Petty a writing credit for his song 'Stay With Me', thanks to the song's similarities to Tom's hit 'I Won't Back Down'.
LIKE US ON FACEBOOK | FOLLOW US ON TWITTER