Robin Thicke and Pharrell Williams are to pay Marvin Gaye's family $7.4 million (£4.8 million), after a US court ruled they copied the R&B legend's song 'Got to Give it Up'.
A jury decided their 2013 hit 'Blurred Lines' breached the copyright owned by Gaye's three children. His daughter Nona wept as the verdict read out.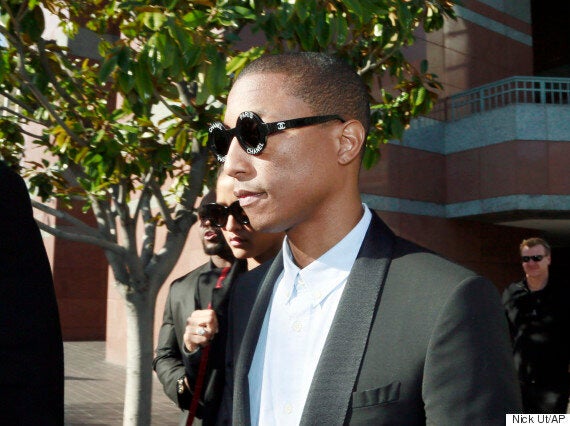 Pharrell Williams leaving the court
Speaking after the hearing, Nona shared her relief at the ruling, stating: "Right now I feel free from Pharrell Williams and Robin Thicke's chains, and what they tried to keep on us and the lies that were told."
The music industry may feel new constraints in the coming years as artists - and lawyers - sort through the verdict and its implications.
Howard King, lead attorney for Thicke and Williams, told jurors in closing arguments that a verdict for the Gaye family would have a chilling effect on musicians' trying to evoke an era or create an homage to the sound of earlier musicians. Williams contended during the trial that he was only trying to mimic the "feel" of Gaye's late 1970s music, but insisted he did not use elements of his idol's work.
"Today's successful verdict, with the odds more than stacked against the Marvin Gaye estate, could redefine what copyright infringement means for recording artists," said Glen Rothstein, an intellectual property attorney with the firm Greenberg Glusker.
The Gaye family will seek an injunction against 'Blurred Lines', which will give them leverage to negotiate for royalties and other concessions such as songwriting credits.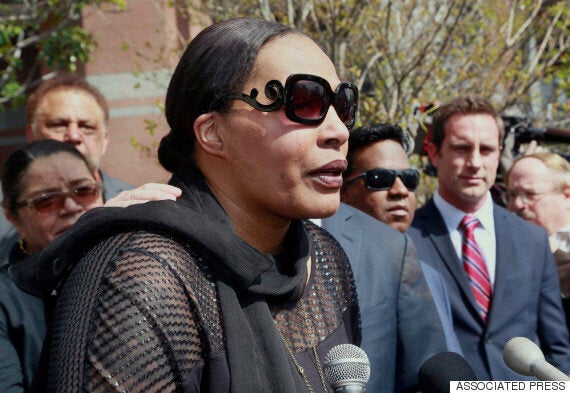 Gaye's daughter Nona speaking outside the court
"Unfortunately, today's jury verdict has blurred the lines between protectable elements of a musical composition and the unprotectable musical style or groove exemplified by Marvin Gaye," said Larry Iser, an intellectual property lawyer who has represented numerous musicians, including Jackson Browne and David Byrne, in music copyright cases. "Although Gaye was the Prince of Soul, he didn't own a copyright to the genre, and Thicke and Williams' homage to the feel of Marvin Gaye is not infringing."
His statement contradicted previous magazine interviews, in which Thicke had detailed how he worked with the producer to create the track in just 30 minutes.
"But the reality is, is that Pharrell had the beat and he wrote almost every single part of the song."
'Blurred Lines' became of the most successful songs of all-time following its 2013 release, and to date, over 14.8 million copies have been sold worldwide.
The track wasn't without its controversies though, and its music video and sexual lyrics were heavily criticised. It was later banned at a number of UK universities, including the University Of London.
Speaking in October 2013, their women's officer told HuffPost UK: "I think it has been shown that by banning the song, Students' Unions have taken part in highlighting how problematic the song is and have quickly evoked wider conversations about rape culture in student environments and who we hold to account in regards to keeping student unions safe spaces."
A number of Robin and Pharrell's fans and critics have taken to Twitter following the ruling, with a number debating how this could affect the music industry.