London students are the latest to crack down on Robin Thicke's controversial Blurred Lines songs, which has been described as "disgusting" and "rapey".
The University of London Union (ULU) has become the seventh student union to ban the song, which features lyrics such as "I know you want it" and "I'll give you something big enough to tear your ass in two".
Speaking to The Huffington Post UK, Susuana Antubam, women's officer at ULU, said: "I have heard many cases of students leaving clubs and spaces where the song has been played because of its triggering elements; anything that means that students feel more comfortable in their environment must be a positive thing.
"The song is already in the charts, there's not much we can do about that. However, I think it has been shown that by banning the song, Students' Unions have taken part in highlighting how problematic the song is and have quickly evoked wider conversations about rape culture in student environments and who we hold to account in regards to keeping student unions safe spaces."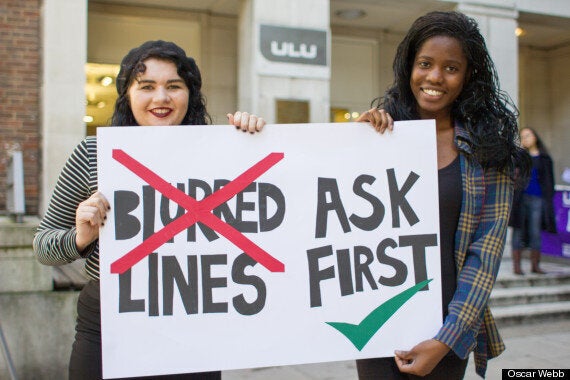 Beth, women's officer at University College London Union and ULU's women's officer Susuana
But Antubam added: "Many students' unions around the country have a zero tolerance policy which means that sexual harassers can be removed and banned from student spaces, so it seem pretty silly for a students' union to vote against removing a triggering song from playlists.
A statement from ULU said it was "happy" to join the other SUs who would not be playing Thicke's track in any of their buildings. "We think student spaces should promote consent and not normalise rape culture and believe that we should start sending out strong messages to those who capitalise on misogyny on campuses."