The royal baby has arrived!
The Duchess of Cambridge arrived at the private Lindo Wing of St Mary's Hospital at 6am on Saturday and her new princess was born at 8:34am weighing 8lbs 3oz.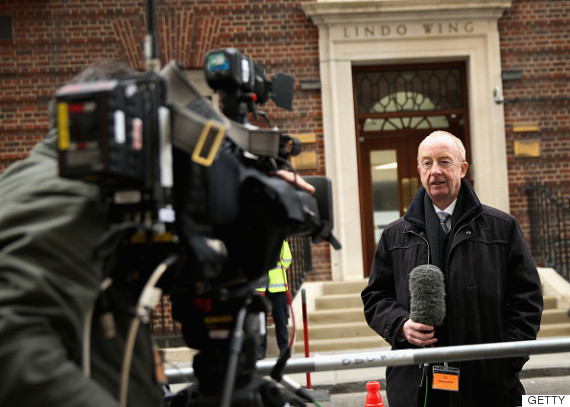 Nicholas Witchell reports from outside the Lindo Wing
As the media swarm on the Paddington hospital, we were set to be treated to repetitions of key phrases like "it's a waiting game now".... and then news came that Kate had safely delivered of a daughter.
Of course the ubiquitous Kay Burley was busy scurrying around the media pen but it was the BBC's Nicholas Witchell who grabbed the attention of social media followers. And they are NOT being kind.
Don't think I can handle the news today with them cutting to that sycophantic prick Nicholas Witchell every five minutes.

— Ideal Cynic (@IdealCynic) May 2, 2015
@RepublicStaff@BBCBreakfast Nicholas Witchell is a simpering creep!

— Sir Charles Mellish. (@e6d8fd7bcb914cc) May 2, 2015
A little bit of Nicholas Witchell dies every time he appears on TV as the new Jenny Bond.

— Conal (@conalfz) May 2, 2015
User @frozenwarming tweeted: "It's that glorious time again, when you realise no matter how annoying your job is, at least you're not Nicholas Witchell."
Gary Stitchell added: "Finally, Happy Nicholas Witchell is An Embarrassing Servile Toady Day to all. #RoyalSprog."
I know its only a matter of time before Nicholas Witchell's fawning droning voice fills the airways every where for hrs, oh god #bbcnews

— E (@bluerunsonly) April 30, 2015
'There's no more I can tell you about the process that has now begun'.

For Christ sake @BBCNews, buy Nicholas Witchell a human biology book!

— david ross (@dfr10) May 2, 2015
After a lot of screaming, panting, sweating & gas, Nicholas Witchell is pleased to announce he's at the front of the press line. #RoyalBaby

— Mark O'Connell (@Mark0Connell) May 2, 2015
Simon Brown said: "This is your final warning. Nicholas Witchell on TV all day #RoyalBaby."
Steven Mills added: "'Let's pass over to our Royal Correspondent Nicholas Witchell.' Those nine words everyone dreads..."
Ouch.
@BBCNews what is the point of Nicholas witchell, I know as much as him ffs! #RoyalBabyWatch

— john harrison (@johnnyhjazz) May 2, 2015
Can someone take Nicholas Witchell off my TV now

— Chris McDaid (@chrismc1957) May 2, 2015
In fairness, some seemed to feel rather sorry for the poor reporter...
But no. That's not how it will play out. Nicholas Witchell will shed a little more of his soul, stood outside the hospital for hours...

— Good Ol' Mr Chudley (@MrChudley) May 2, 2015
Feel very, very sorry for Nicholas Witchell right now. How much filling with inane nonsense will he have to do over the next 12 hours?!

— Lee Donaghy (@LeeDonaghy) May 2, 2015
Hang in there Nick...
Journalists had been at the hospital for several days but were only sent emails at 6.30am advising them that the Duchess had arrived at the hospital.
One photographer was heard in the morning saying: "I'm going to need a bigger ladder."
SEE ALSO: