When you're sharing the red carpet with the cream of showbiz land, it's important to really make a splash - and Rihanna did just that at this year's China-themed Met Gala, although not necessarily for the right reasons.
While the likes of Beyoncé and Kim Kardashian tried to steal the limelight - and generate the most column inches - in flesh-flashing designs, RiRi was one of the few celebs in attendance to wear a dress by a Chinese designer.
But as soon as the 27-year-old rocked up to the event at New York's Metropolitan Museum of Art, her canary yellow gown, which took designer Guo Pei two years to complete, sent Twitter into meltdown...
Forget fur, some thought Rihanna was wearing Big Bird from 'Sesame Street'...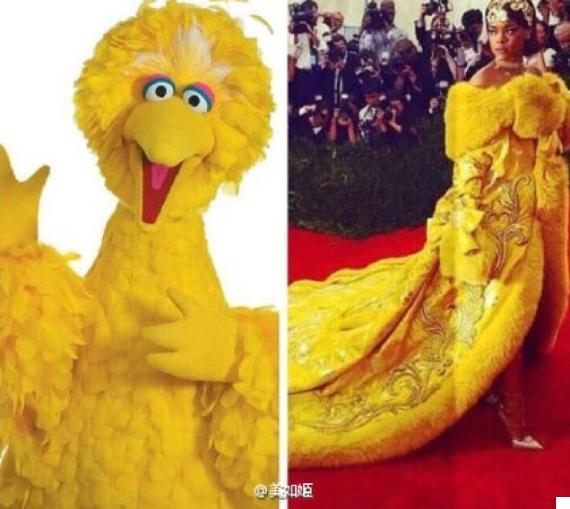 Others couldn't help but notice the similarities her dress had to an omelette…
Got this from Path, dunno who post it first but it sure is spot on! :)) #MetGala2015 pic.twitter.com/588ic8vosR

— Dian Onno (@DianOnno) May 5, 2015
Rihanna looks like a giant omelette and she'd go perfectly with a portion of chips #MetGala #MetGala2015 pic.twitter.com/ySjmOEWzeY

— Elliot Wagland (@elliotwagland) May 5, 2015
Outfit omelette di Rihanna al #MetGala2015 pic.twitter.com/8ceQQZOIsP

— Spazio Disponibile (@sdisponibile) May 5, 2015
Or a pizza...
Rihanna's #MetGala dress made everyone think of pizza and omelettes: http://t.co/Wztffwee61 pic.twitter.com/6HAtYPNFmG

— The Cut (@TheCut) May 5, 2015
And look who was coasting along on RiRi's train…
Here are all the things #Rihanna's giant yellow dress looked like on the #MetGala red carpet! http://t.co/qMD3rbIZXY pic.twitter.com/K7K7su9lPV

— Perez Hilton (@PerezHilton) May 5, 2015
And that's got to be the most glamorous way to make an emergency exit from a plane...
In case of an emergency please take your shoes off and escape using the dress provided. #MetGala @rihanna ✈️ pic.twitter.com/3EBzFwOunF

— The Scoopla Show (@thescooplashow) May 5, 2015
LIKE US ON FACEBOOK | FOLLOW US ON TWITTER