Being a mother is one of the greatest gifts, but in the world rankings, the UK isn't in top ten places to be a mother for the third year in a row.
Save the Children's annual State of the World's Mothers report placed the UK in 24th place globally in the best places to be a mother, compared to 26th in the rankings last year.
Norway, Finland and Iceland were in first, second and third place respectively.
The UK, which has not made the top 10 since 2012, was also behind countries including Spain, Slovenia, Israel and Greece.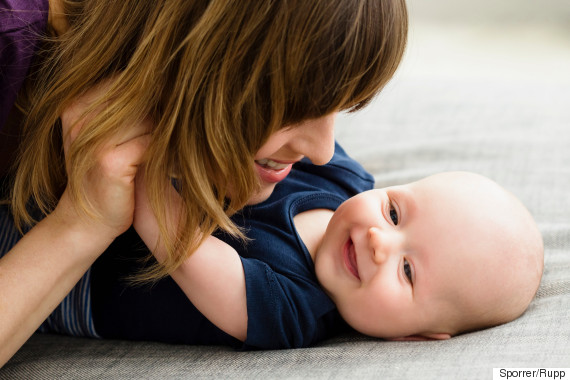 The United States fell even further behind in 33rd place, while Somalia remained last for the second year running with all but two of the 11 bottom-ranked countries in the world in West and Central Africa.
The 2015 report found that women in the UK face a one in 6,900 lifetime risk of maternal death. This was far greater than Poland (19,800), Austria (19,200) and Belarus (45,200).
In the US the figure was a one in 1,800 lifetime risk of maternal death - the worst performance of any developed country in the world.
The charity also calculated that a child born in the UK is more than twice as likely to die before the age of five as in Iceland or Luxembourg, with the UK having a child mortality rate of 4.6 per 1,000 births, and the other two countries being 2.1 and two respectively.
SEE MORE:

Every Day Is Mother's Day On The Twitter Account 'Texts From Mum'

Young Mother Describes How Emotional Moment Her Premature Babies Were Saved By Freezer Bags
Countries are ranked on five key factors - risk of maternal death, under five mortality rate, educational status, economic achievement and political status.
High risk pregnancies in the UK are thought to be linked to obesity, IVF, social deprivation, multiple pregnancies as well as increased maternal age and poorer access to healthcare, especially in some ethnic minority communities and among asylum seekers.
This year's report also evaluates the devastating health disparities between the rich and poor living in some of the major cities around the world.
It found that while home to the wealthiest and healthiest people in a country, they are also home to some of the poorest and most marginalised families on earth.
The 10 countries showing the greatest survival divide between wealthy and poor urban children were Rwanda, Cambodia, Kenya, Vietnam, Peru, India, Madagascar, Ghana, Bangladesh and Nigeria.
SEE MORE:

Switching To Organic Milk While Pregnant Could Harm Unborn Baby And Affect IQ, Says Study

Photographer Captures Precious Moment Mum With Cancer Breastfeeds Newborn Baby (Despite Undergoing Mastectomy)
But the report also uncovered some good news, identifying a number of cities that are making significant survival gains city-wide, including Kampala (Uganda), Addis Ababa (Ethiopia); Cairo (Egypt); Guatemala City (Guatemala); Manila (Philippines); and Phnom Penh (Cambodia).
Save the Children International's chief executive, Jasmine Whitbread, said: "We urgently need to close the gap in life chances for mothers and children so that - no matter where they live - everyone has a fair chance to survive and fulfil their potential.
"For the first time in history, more than half of the world's population lives in urban areas. People are often drawn to cities by the prospect of a better life for their children, but many cities around the world are unable to keep up with breakneck growth, leaving hundreds of millions of mothers and children in cities without access to essential health services and the clean water they need to survive and stay healthy.
"We have to find better ways of getting health care to urban populations, regardless of income. For babies born in many of the world's fast-growing cities, it's survival of the richest."