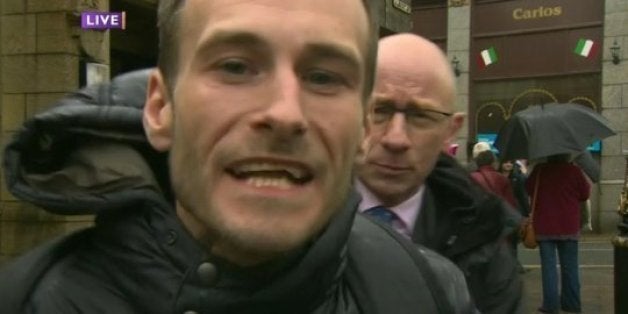 It may have been a very controlled general election campaign, but that has not stopped a few hecklers getting through the net. Today it was the turn of a BBC Daily Politics reporter to get interrupted by an irritated voter.
Peter Hunt was patiently explaining what Ed Miliband was up to on the last day of campaigning when a man leaped in front of his camera shouting "don't vote Labour".
After Hunt bundled the interloper out of the way he observed: "That might be called the joy of live TV." Hunt, who was speaking to Daily Politics host Jo Coburn back in the London studio added: "Why do I get heckled and not Ed Miliband? I'm not even standing in this election."
The protester grappled with police as Hunt moved on to the more "boring" issue of the election campaign. Daily Politics' Andrew Neil noted the strange scene.