When HM The Queen takes her place for the celebrations today, marking an astonishing 70 years since VE Day was declared across Europe, her mind may well travel back to that special day, when delight and relief broke through the fear and gloom of World War II, and everyone in Britain gathered with their loved ones to celebrate.
The Queen was then a young Princess, first in line to the throne, and hemmed in by royal protocol and formality.
But, as the film 'A Royal Night Out' shows, she was able - for one night only - to slip out unnoticed beyond the Palace walls and, with her sister Margaret (Bel Powey), join in the thousands of revellers letting their hair down across London town.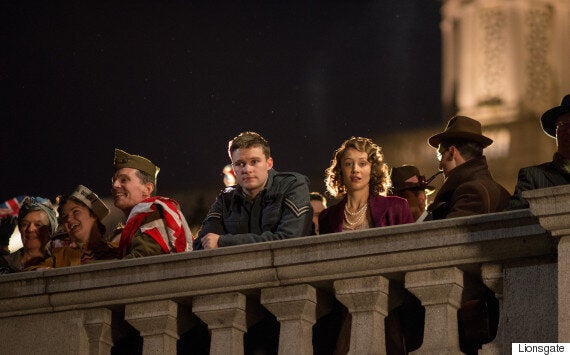 The Queen's secret visit to Trafalgar Square on the night of VE Day is told in 'A Royal Night Out'
In our clip above, we see Elizabeth (Sarah Gadon) arrive at Trafalgar Square, where some serious fountain-dipping is going on. By now, she's collected a fellow traveller, a soldier Jack (Jack Reynor) with a mysterious past, who doesn't realise the pedigree of the lady he's just met, only that she's posh, rich and represents everything he despises.
While the writers of the film have let their imaginations run wild with their narrative (did Princess Margaret REALLY end up in a brothel by accident that night?), the framework is accurate, with the young Princesses for once letting their hair down, and the King and Queen (Rupert Everett and Emily Watson) left to keep the home fires burning in Buckingham Palace.
A Royal Night Out will be shown at the Odeon Leicester Square from today, and there will also be one-off screenings at selected cinemas around the country to celebrate VE Day. The film will go on general release next Friday 15 May. Watch the trailer below...