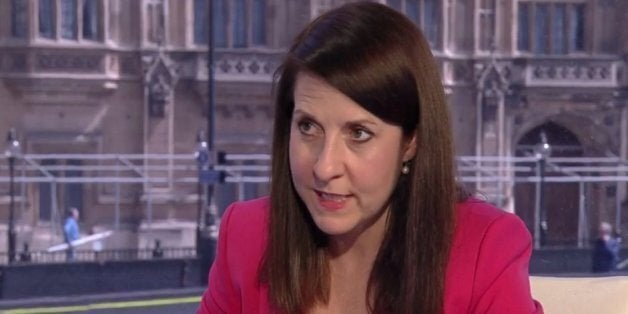 Liz Kendall has become the first Labour MP to officially declare she is running to replace Ed Miliband as leader of the party.
The MP for Leicester West was asked by Andrew Neil on the BBC's Daily Politics programme on Sunday afternoon if she wanted to be leader. She replied simply: "Yes."
Kendall, who was a shadow health minister in Miliband's team, said the scale of Labour's defeat, which saw David Cameron clinch an overall majority, was "huge". She said the party had sounded too much like the "moaning man in the pub" to win votes.
She added: "I think we didn't get people's trust on the economy... we didn't set out a positive enough alternative for the future."
A long list of other names are also in the frame for the leadership of the party, as it comes to terms with its unexpected and overwhelming election defeat on Thursday. Chuka Umunna, Andy Burnham, Yvette Cooper, Tristram Hunt and Dan Jarvis, are all seen as likely candidates. David Lammy has said he is considering a bid. And Angela Eagle is understood to be considering running.
Umunna earlier said he would "play the fullest part I can" but declined to confirm that he would join the race to succeed Ed Miliband, who resigned after leading the party to a shocking defeat at the polls.
Both joined calls by senior Blairites - including ex-PM Tony Blair himself - for the party to offer a more "aspirational" message that appealed beyond the traditional working class vote.
It came as former New Labour strategy chief Lord Mandelson accused Mr Miliband of throwing away a genuine chance of returning the party to power by his "terrible mistake" of shifting the party to the left.
He said the party leader had delivered "a passionate and a professional performance" in the campaign but had seriously misjudged the public mood.
"The awful, shocking thing about this election is that Labour could have won it or at least come a very near second. The reason we lost it, and lost it so badly, was because in 2010 we discarded New Labour rather than revitalising it and re-energising it and making it relevant for new times that we faced.