A Welsh bus company has promised to remove a controversial ad campaign following widespread outrage on social media.
The offending advert, which first appeared on the back of buses in Cardiff on Monday morning, features a topless woman holding a sign that reads: "ride me all day for £3."
New Adventure Travel (NAT) tweeted a picture of the advert first thing this morning, but critics were quick to slam it as as "sexist" and "vile". The tweet has since been deleted and an apology has been issued.
The adverts featured both male and female models, but the male advert does not appear to have caused as much outrage.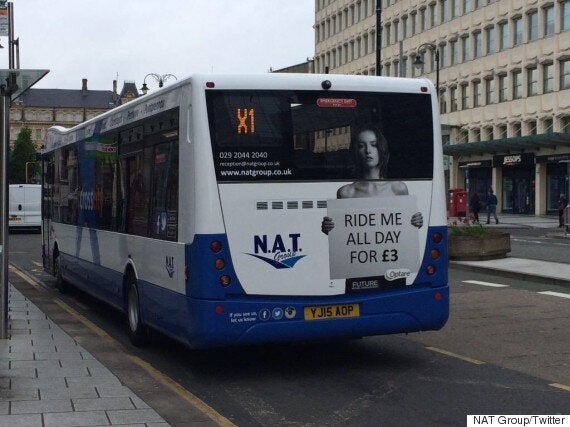 The image tweeted by NAT earlier today
NAT issued a statement to social media, saying: "The slogan of 'ride me all day for £3' whilst being a little tongue-in-cheek was in no way intended to cause offence to either men or women and, if the advert has done so then we apologise unreservedly. There has certainly been no intention to objectify either men or women.
"Given the volume of negativity received we have decided to remove the pictures from the back of the buses within the next twenty four hours."
Hanna, who works for We Are Cardiff, a voluntary project documenting stories of people from Wales, saw the advert while cycling in Cardiff.
"When I saw it, I felt as though I'd stepped back to a time where ad agencies thought it was in any way acceptable to use this kind of imagery to sell a bus ticket. This has no place in 2015, and people need to make noise about it."
And she wasn't the only one who was offended...
What do you think of the advert? Let us know in the comments below.