Instagram is a guilty pleasure of many, whether it's scrolling through gorgeous homeware inspiration, or finding that perfect picture to post.
It's now becoming an unlikely platform to profile babies, children and teens who are becoming way more popular than any of us.
Maddie Ziegler, the 12-year-old with three million Instagram followers is showing us just how powerful a picture-posting app can be. Pretty powerful indeed.
Ziegler, made famous through the popular Dance Moms also has one billion YouTube hits. Four years ago, no one even knew her name and now millions of people are following her every move on the visual app.
So while we're all feeling a bit shy at our lack of Instagram followers, HuffPost UK Parents decided to take another look at the other kids who are way more popular than us on Instagram. Sob.
Whether it's with followers or likes, these kids are getting pretty famous.
Coca Rocha's adorable son, Ioni James Conran is probably the youngest on our list, at not even three months old.
Canadian Model, Rocha and previous judge on The Face welcomed her son at the end of March this year, and his Instagram was set up within hours. No joke.
His Instagram is written in first person, with his parents pretending to do their best version of baby talk. "Its been a few days, did you miss me? Having a few minutes in the sun, my favorite" they write on a post where the sun is shining in his face.
With less than 20 posts, his followers are sure eager to see more.
Kourtney Kardashian's bundle of joy, Reign Aston Disick received a whopping 1.3 million likes when his photo was first released to the world one month ago.
Kourtney Kardashian and Scott Disick's third son together lays on a fluffy carpet with his fists clenched beside his head and those big brown eyes are so cute.
Kardashian described him as her "little turtle dove angel baby boy" on the caption. He joins five-year-old brother, Mason and two-year-old sister, Penelope. Is he going to be the most popular of the three?
The first baby of Justin Timberlake and Jessica Biel raked in a record 1.4 million likes when pictures with his mum on Justin's account.
With 72.6 thousand comments, it was the first pic to be shared on the Instagram account.
The world's first glimpse at the small newborn caught him mid yawn (or 'roar' as they mention in the caption), and being cradled in his mums arms.
"Your baby is so cute,", "He is so cute", and "Cute baby" were repeated comments on the picture. He is pretty cute.
Her name, let alone her first picture made the nation go crazy, and North West's appeal isn't stopping any time soon.
When mum, Kim Kardashian, posted a picture of North only a month ago of her smelling flowers in a garden with the sun shining, she totalled a pretty hefty 1.1 million likes.
West, who is nearly two years old, isn't shown facing the camera but showing her adorable ponytail at the back. For some reason, this picture goes way above the others in likes.
Kardashian frequently posts photos of her daughter on Instagram, reaching nearly one million likes.
Okay, so she's not reaching the millions, but any photo of Harper Beckham pictured with David Beckham seems to make the world go crazy.
This particular photo of Harper sitting on her dad's lap at a Victoria Beckham show during New York Fashion Week was a favourite among Victoria's followers, receiving 151k likes.
Sat patiently on her dad's lap with a tiny top knot, even Anna Wintour can't help but smile.
It's one of very few photos posted on the fashion designer's account of her daughter, apart from a gorgeous one from behind holding her mum's hand. Aww.
On his second day of living, Axl Jack Duhamel, Fergie from the Black Eyed Peas' son, had his photo liked nearly 40,000 times on Instagram.
"Hearing test complete, all systems go" writes Fergie in the caption.
Looking incredibly tiny with a gorgeous striped hat, Duhamel looks as if he is fast asleep while many fans take to Instagram to congratulate and welcome him into the world.
20 months on, and he's grown up a lot as shown by the below picture in a children's Armani suit, which got a huge 46.3k likes.
But the photo with his mum is possibly the best of them all.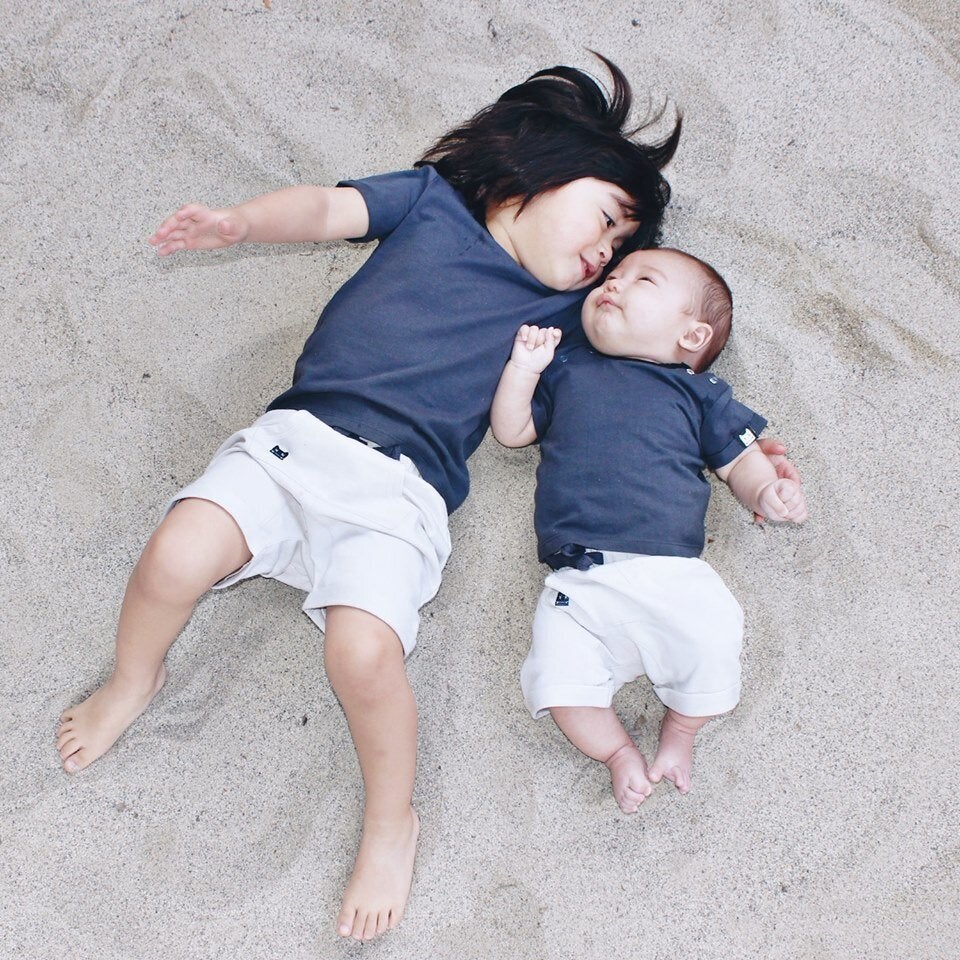 Kardashian Kids