Charities and doctors are already on the ground working to help people affected by the first disaster, and are likely to struggle to cope with the deaths and injuries from a second major earthquake.
It's easy to feel useless when people are suffering thousands of miles away but vital funds can make a real difference to the relief effort.
We've given a run-down of some of the organisations and charities which you can donate to and through to help…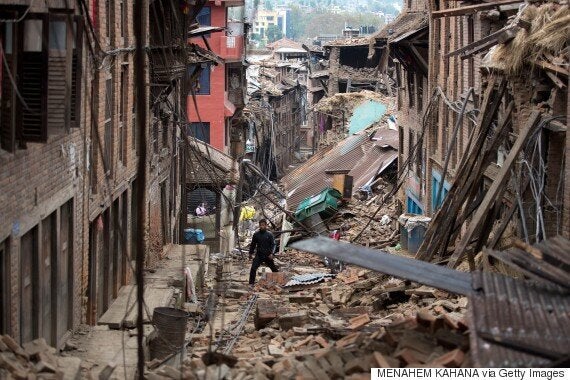 The death toll is continuing to climb following the earthquake
The DEC (comprised of 13 UK charities including the British Red Cross, Care International, Christian Aid, Oxfam, Save The Children and World Vision) is working urgently to provide emergency shelter, food, clean water and blankets. Once immediate, life-saving needs are met they will work with individuals, families and communities to support them to rebuild their lives.
The United Nations' children's agency, UNICEF, says nearly one million children in Nepal need help. The charity is preparing two cargo flights with a combined 120 tons of humanitarian supplies including medical and hospital supplies, tents and blankets, for urgent airlift to Kathmandu.
Medecins Sans Frontieres (also known as Doctors Without Borders) are sending medical and non-medical teams. They will first assess the most urgent medical needs following Saturday's earthquake and will be able to perform surgical operations as soon as they have set up a surgical unit. Surgeons, midwives, anaesthetists and water and sanitation experts will also help.
The U.N. World Food Program says logistics and emergency response teams have arrived in Kathmandu. Here they will be able to address the basic issue of feeding survivors left destitute by the disaster.
The web payment company announced it was waiving fees for donations to the Nepal relief effort. It was delivering donations through its PayPal Giving Fund to several of the aid groups listed above, among others.
The social media site is appealing to members to donate to the relief effort and will in turn match donations. Proceeds will be given to the International Medical Corps (IMC), which is delivering medical care and provisions to regions hit hardest by the quake.
iTunes has activated a donation option to support the Red Cross disaster relief efforts. 100% of donations will go to support the Red Cross's efforts providing first aid, search and rescue, and support to first responders.
Related