Just days after Charlotte Church challenged Katie Hopkins to a boxing match, a TV channel have offered up £100K in a bid to make it a reality.
CHARLOTTE CHURCH BLOG: 'I'm More Of A Prosecco Girl, Myself
Boxing channel BoxNation has promised they'll stump up the cash and pay it to the charity of choice of the eventual winner.
They've also promised to provide adequate training so Charlotte and Katie can have a fair fight.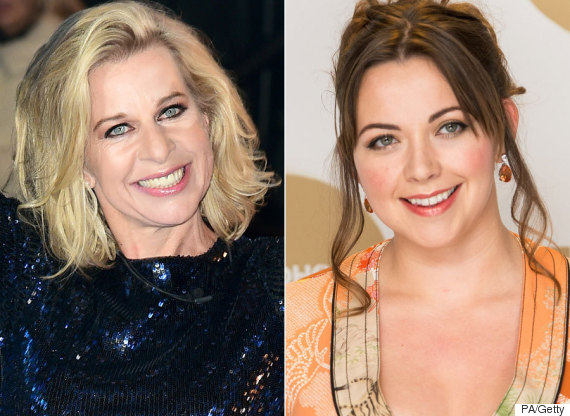 Katie Hopkins and Charlotte Church
Charlotte threw down the gauntlet to the UK's resident rent-a-gob after Katie had a go at the Welsh singer for joining an anti-austerity march in Cardiff in protest at the recent Tory election victory.
The exchange on Twitter went a little something like this…
Oi! @charlottechurch wind your neck in. Your Welsh AND you lost. Own your problems http://t.co/yq2cpoSW9Wpic.twitter.com/rFbA9XKQTl

— Katie Hopkins (@KTHopkins) May 9, 2015
Church instantly hit back.
@KTHopkins I have no interest in ever conversing with you. You lack humility AND you can't spell. Parasite.

— Charlotte Church (@charlottechurch) May 10, 2015
One Twitter user then made a prediction...
@charlottechurch@KTHopkins Uh oh, I see a charity boxing match

— Tariq James Hilton (@TeeJay2201) May 10, 2015
SEE ALSO:
@TeeJay2201 I'd relish to opportunity to lawfully smash her face in. #i'dtrainhard #likearockymontage#foreveryone

— Charlotte Church (@charlottechurch) May 10, 2015
@KTHopkins Fancy a charity boxing match?

— Charlotte Church (@charlottechurch) May 10, 2015
Charity boxing match @charlottechurch ? I'd make a cheap gag you'd be punching above your weight. But at welterweight....

— Katie Hopkins (@KTHopkins) May 10, 2015
Jim McMunn, Managing Director of BoxNation, said: "If these two want it to happen in the ring then BoxNation will make it happen.
"We immediately guarantee a purse of £100k for their nominated charities and we look forward to facilitating this showdown.
"Boxing is the ultimate one on one - Twitter and social media becomes a cowardly nonsense. BoxNation will ensure both fighters are ready to step through the ropes and face each other in a reality neither could ever have imagined."
Ladies?
LIKE US ON FACEBOOK | FOLLOW US ON TWITTER