When a family member complained about his computer crashing, teenager Matthew Bridger helped to fix it. From there, it was history, and now the 14-year-old is already onto business number two.
"What started as a favour turned into a business in that moment, as my neighbour wanted to pay me for my help but could not afford repair shop prices," he explained. Matthew began restoring gadgets with a no fix, no fee policy, but then decided to transform his venture into a fully-fledge business called Whisper Media.
We sat down with the teen to find out what makes him tick.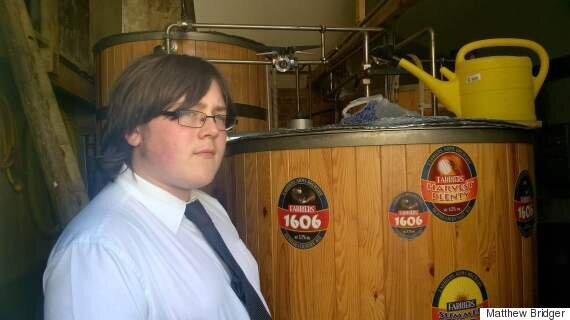 14-year-old Matthew Bridger is already onto his second business
So what's your business all about?
We are a small but perfectly formed creative bunch who specialize in innovative branding, digital marketing and all things web.
From small brochure websites to large e-commerce projects, we believe in thinking outside the box and being brave with your online presence. Whisper Media was founded on the vision of making technology support affordable and helpful
What inspired you to start your business?
My first experience of business was when I was 11 years old and in the process of moving to secondary school, I started as a freelancer offering IT support all around the country and signed up to a number of freelancing websites.
I always had a passion for technology and one of our family friends had a computer problem and he asked me if I could fix it for him, which I did.
Did you face any challenges?
Starting a business as a youth is like a minefield, not only do you have the challenges faced by older entrepreneurs but you also have a large number of misconceptions placed upon you.
A large part of my business sales come from exhibitions and when a business owner sees a child at the stand I instantly get asked, "are you the apprentice" or "can I speak to the owner?"
It's sad because young people have a common misconception placed upon us that we are incapable of starting and running a business. This has lead to me losing some large contracts with business both big and small, including some industry leaders.
Did you ever find your age was a barrier?
Business necessities needed by nearly all online companies like payment gateways are not possible for people under the age of 18, this means that collecting payments for all my work is so hard.
Not only does that destroy my branding but it also means that there are a lot of features I cannot access for my business banking.
There are a number of people who supported me in business and in most situations every person I meet in some way has some sort of effect on my entrepreneurial career. My dad, has always been a call away for support in my business set up and every time I go to visit he is always helping me enhance my ideas.
Also I have been supported by my careers teacher at my school, who has been a very big help and has been able to get me onto the Young Chamber scheme at our school.
What are your hopes for the future?
In the next few years, I plan to finish my GCSEs and start to focus full time on my businesses. I plan to continue to build Whisper Media with the aim of becoming a market leader.
On top of that, I wish to continue my work helping destroy the additional problems faced by young entrepreneurs when starting a business. We also plan to expand the Whisper Media Brand with opening an ISP, Gas and Electricity company in the future.
Finally, I am fairly open minded about the future and I think this is the best mind set to have as every day new ideas and developments are made and I want to make sure I make the most from each one.
What advice would you give others?
Take risks, there is nothing that you can do which will keep you down for too long, because you are long you can jump back up.