We waited 10 years, gave them a funky arachnid-related name and assumed they would rock the political foundations of the country from within.
Turns out the Prince Charles spider letters were a damp squib. (For damp squids click here.)
From the first few, the Prince Charles letters are mainly of a man with too much time on his hands and a liking for exclamation marks.

— John Hyde (@JohnHyde1982) May 13, 2015
And they were long...
Prince Charles's letters released. *goes for nap and waits for someone else to find the interesting bits*

— Julia Hartley-Brewer (@JuliaHB1) May 13, 2015
There weren't really any surprises.
#BlackSpiderMemos Wow, Prince Charles wrote to Secretary of State and Industry to lobby for funding for a charity he set up! :0

— Ryan (@RyanBush85) May 13, 2015
@charltonbrooker But.. but... badger culls! Agriculture! Patagonian toothfish!

— Tom Davidson (@DPTomDavidson) May 13, 2015
Suffice to say people were a bit disappointed he wasn't the lizard-demon, government-baiting Royal some thought he was.
Is there NOTHING in Prince Charles' letters about him being an evil lizard?

— Tom Holland (@holland_tom) May 13, 2015
These letters show that Prince Charles would be more useful to Britain if he watched Dave all day while eating Frazzles.

— Newsfox (@theNewsfox) May 13, 2015
This person may or may not be joking...
Of course these aren't the real Prince Charles letters. Where's the stuff about planning the twin towers or chemtrails? WAKE UP SHEEPLE.

— Generalissimo Twll (@twlldun) May 13, 2015
But if you are one of these chaps you have reason to be interested as it turns out the Prince is a huge fan.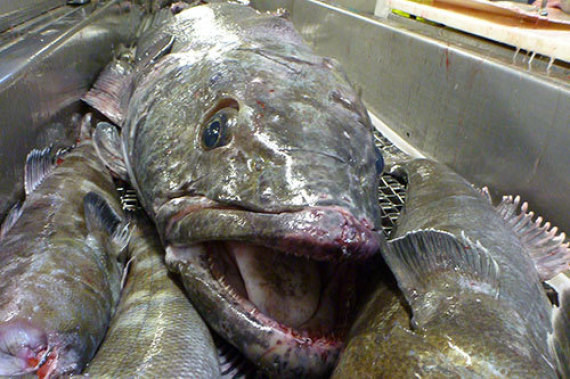 This is the Patagonian Toothfish and Charles is very concerned about them.
Genuine Prince Charles letter: I "hope that the illegal fishing of the Patagonian Toothfish will be high on your list of priorities".

— Will Heaven (@WillHeaven) May 13, 2015
Big day for the Patagonian toothfish.

— SimonNRicketts (@SimonNRicketts) May 13, 2015
Currently fucking devastated over the state of the Patagonian toothfish.

— Bella (@bellamackie) May 13, 2015
And if you live in Cambridge and want to eat one here you go...
Hmm, Patagonian Toothfish.

With chips and mushy peas, I hope.

— David Rigby (@DavidRigby5) May 13, 2015
It quickly became a bit of a thing.
Always nice to see the Patagonian Toothfish trending.

— Adrian Wale (@AdrianWale) May 13, 2015
Prince Charles has got Patagonian Toothfish trending.

— Jessica Elgot (@jessicaelgot) May 13, 2015
When's Patagonian toothfish awareness week?

— Col (@Beefylol) May 13, 2015
BREAKING: Patagonian Toothfish announces Labour leadership bid. pic.twitter.com/RBmFEQlyDb

— Carl Maxim (@carlmaxim) May 13, 2015
Patagonian Toothfish is a top notch band name.

— Benjamin Teear (@BJTeear) May 13, 2015
Have to say had never heard of the Patagonian toothfish #charlesletters

— Ben Monro-Davies (@benm_d) May 13, 2015
I love my Patagonian toothfish lightly fried in badger oil.

— Tim Smith (@GasheadAu) May 13, 2015
But there was still the opportunity for a terrible pun.
I have to say that a quick scan of the Prince Charles letters suggests they are rather Patagonian Toothless... #charlesletters

— Matthew Thompson (@mattuthompson) May 13, 2015
SEE ALSO