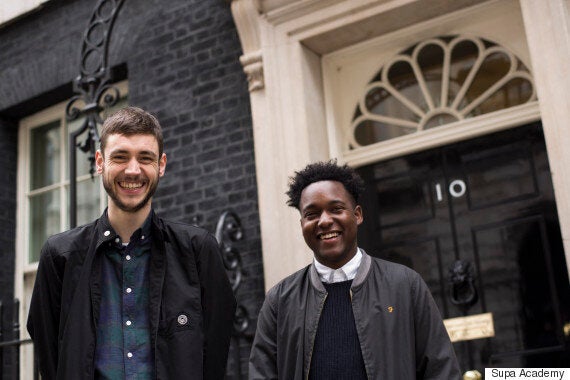 The cut-throat, competitive nature of the business world means that opportunities to engage with those in the industry and get hands on experience can be scarce. This is something Liam Tootill and Bejay Mulenga know all too well about. That's why they are giving young people who want to get involved in enterprise the chance to put their passion into practice.
Together, Liam and Bejay created Supa Academy and have launched The Supa Academy Hack Event, which will see more than 500 young people from across the UK discover everything they need to know about entrepreneurship.
Over the course of the Supa Academy Hack, participants will be mentored by some of the UK's leading entrepreneurs and exposed to leading brands in the industry. Following a series of workshops and master-classes, they will then be invited to create their very own pop-up supermarket and e-commerce site, where the young business minds will be challenged to generate income in just 72 hours.
The pioneering event is being back by Lord Young, adviser to the Prime Minister David Cameron on small business and enterprise, Barclays LifeSkills, River Island, Facebook and Pepsi Max.
Liam, from the pair making waves in the enterprise world, told HuffPost UK more about their mission.
When did you first meet Bejay?
The idea came from both of us being really excited about business and enterprise, and the fun we've had with it over the past five years, in our own different ways. My journey was working at SBTV, helping build an online, youth-entertainment platform, whilst Bejay's was in the enterprise education space building Supa Tuck. We met in early 2012 at a Google hackathon and struck up a friendship. We've been working together since late 2013 and Supa Academy grew out of a number of conversations we had together.
Where did the idea for the Supa Academy stem from?
We explored what factors played an integral part in our united appreciation of enterprise, until we had broken it down into three key pillars. The first, is the experience must be Applied. You learn by doing and being hands on can allow you to grasp things far quicker. The second, is Influenced. We believe that having access to experts who are leaders in their respective fields really helps and advances learning and expertise. The third, is you need to be Vested. This means you are tied into the experience through ownership, which is a good source of incentive and motivation.
How will the Supa Academy benefit young business brains?
Supa Academy is all about creating The Apprentice meets Dragon's Den style opportunities and challenges for teenagers and young adults wanting to get involved with business in a fun and engaging way. They will have the ability to learn new skills, meet some inspiring people and put their ideas and energy into practice to make some money.
What challenges have you faced setting up the business and how did you overcome them?
Business is not easy. But with the right level of commitment and desire you can get results. One of the biggest challenges with setting up Supa Academy and the hack more generally has been getting people to understand the big idea and take a plunge with us. To overcome them we've had to really focus on our purpose and explaining why we do what we do.
What benefits will young entrepreneurs get from being mentored by leading entrepreneurs and exposed to big brands?
The first thing that they get is insight into new information that they'd never really have the opportunity to in other walks of life. As a result, this could inspire them to go down a career path that they hadn't really considered before. It's about altering perspective and showing what can be done with the right support, infrastructure and resource.
What are your future goals for growing the business?
We want to see more events like the Supa Academy Hack happening, regionally, nationally and internationally, and more pressingly for this activation to be a kickstart for the community that we are striving to engage and build.
You can sign up for the event which is taking place on 24-26 July at the Old Truman Brewery in London's Brick Lane.
Related