Last-minute talks to avert an impending rail strike, due to hit commuters and football fans on May Bank Holiday Monday, have been announced.
Commuters and football fans will face a "standstill" if Network Rail workers proceed with their strike, it has been warned.
Signallers and maintenance staff are also due to ban overtime for 48 hours on the Bank Holiday Monday and Tuesday following a dispute about pay.
Network Rail bosses reached out to Sir Brendan Barber, the chair of Acas, asking to reconvene talks with three of the unions due to strike later this month.
Today, the unions agreed to the talks and are due to meet with the chief executive of Network Rail, Mark Carne, on Monday.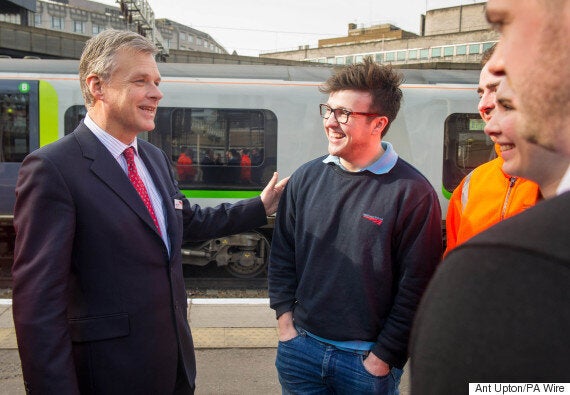 Talks: Network Rail boss Mark Carne (left) meets apprentice Tom Alligan Telecoms Technician at Euston Station during National Apprenticeship Week
Services are due to be hit from the Monday, but the biggest impact is expected on Tuesday, with one official saying: "Services will be at a standstill."
Football fans leaving Wembley after the Championship play-off final, due to kick off at 3pm on Monday, will also be affected.
There is also a programme of Network Rail engineering work being conducted over the bank holiday weekend.
This is due to seriously disrupt the rail travel plans of fans of Preston North End and Swindon Town, whose teams meet in the League One play-off final at Wembley on Sunday, May 24.
The strike announcement follows a huge 4-1 vote for action from RMT members – well above a planned threshold being brought in by the new Government.
The action poses the first big industrial relations test for the Conservatives.
The RMT said it has rejected the latest Network Rail (NR) pay proposals as falling "well short" of what is required to maintain the living standards, job security and working conditions for nearly 16,000 staff across NR operations and maintenance.
Union members have rejected a four-year deal worth £500 this year and three years of increases matching RPI inflation as well as a no-compulsory-redundancy commitment to December 2016.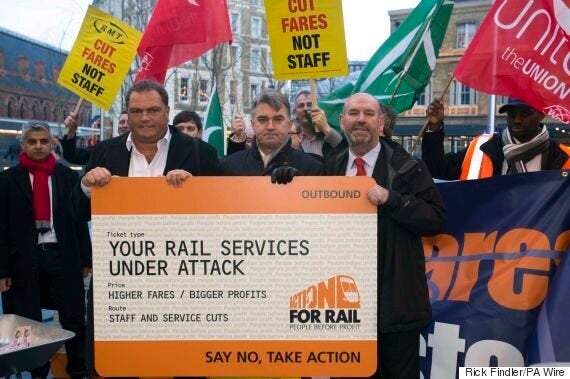 Mick Cash (centre), protests with RMT campaigners outside Kings Cross Station over rail fair increases in January
Mick Cash, RMT general secretary, said: "Our members have decisively rejected the pay package offered by Network Rail and the failure of the company to make any moves whatsoever in light of the overwhelming vote in the ballot has left us with no option but to move to a rolling programme of industrial action.
"We have a massive mandate for action which shows the anger of safety-critical staff across the rail network at attacks on their standards of living and their job security.
"It is appalling that NR are refusing point-blank to take this dispute seriously, to understand the deep-seated grievance felt by their staff and to come forward with a renewed offer which protects pay, jobs and safety."
Mr Cash said that members are left "extremely vulnerable" as the no-compulsory-redundancy commitment only applies to the first two years of the four-year deal.
This is due to be the first national rail strike since 1994.
Transport Secretary Patrick McLoughlin has condemned the industrial action, saying that Network Rail has given workers a "fair offer".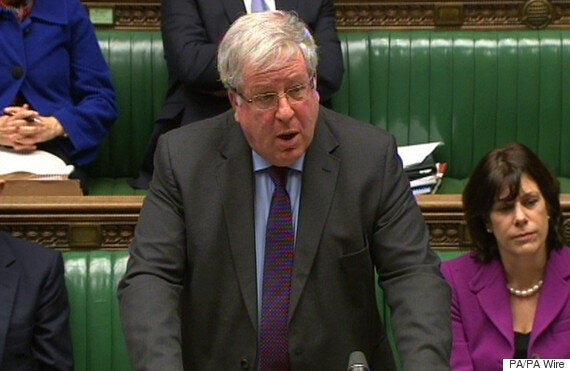 Transport Secretary, Patrick McLoughlin, has criticised RMT's decision to strike
Mark Carne, Network Rail's chief executive, said: "This strike is deliberately timed to cause maximum disruption to families trying to enjoy the half-term break and millions more returning to work after the bank holiday.
"I find it deplorable that the RMT can hold the travelling public to ransom in this way."
He added: "The RMT say we can afford more than what's on offer.
"What they don't say is that Network Rail is a public service body and that all profits are reinvested in building a bigger, better, more reliable railway. Any pay increase comes from the pockets of taxpayers and fare-paying passengers."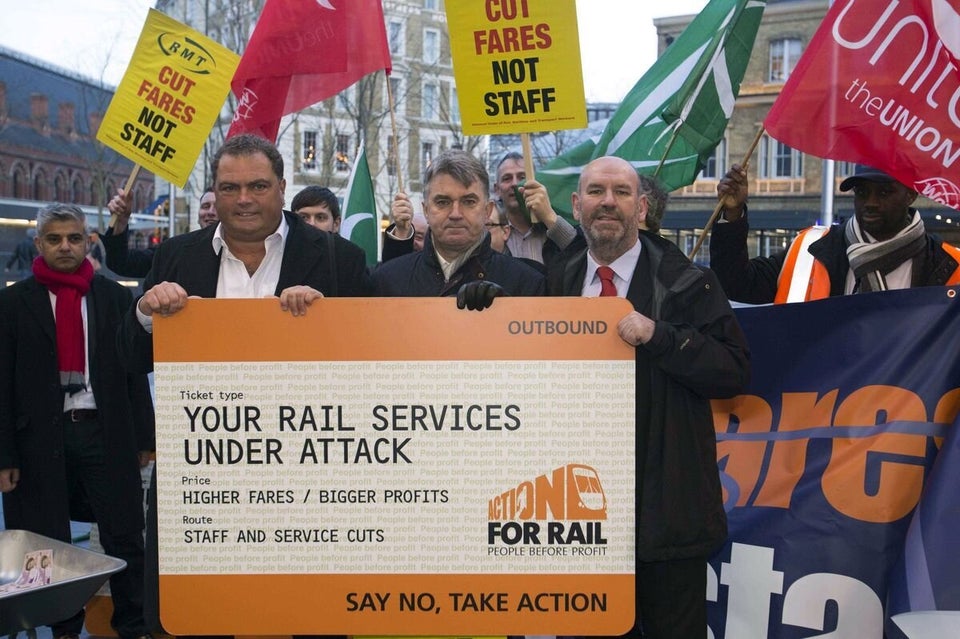 Network Rail strike