Rob, who previously directed the Oscar-winning 'Chicago', tells HuffPostUK:
"He's perfect, brilliant on his feet. He feeds off the audience, he's quick, funny and interested in people.
"He's a very deep person – just perfect."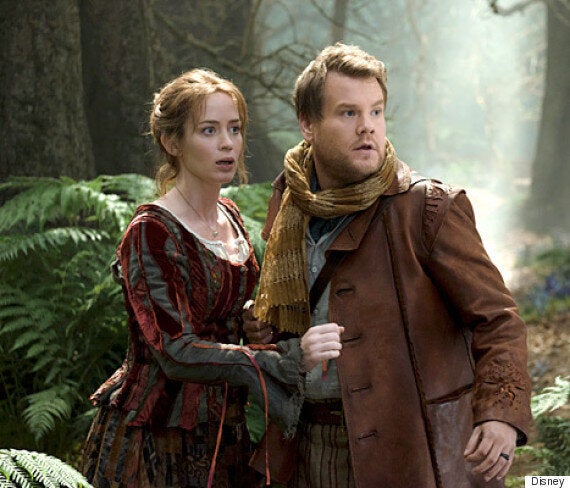 James Corden with co-star Emily Blunt in 'Into the Woods'
Rob has been determined to bring 'Into the Woods' to screen ever since he went to see it on stage three times during its original run – "it's shocking and wise, and it says a lot about children, parents, the consequences of wishes" – but he's had to weather similarly impassioned fans' wrath when he made adjustments to Stephen Sondheim's original book to bring the story to screen. Where, they raged, was the Baker's Ballad?
Rob chuckles. "I had to honour the piece AND make it work on screen, and Stephen was part of that whole process, so he was furious about the misunderstanding that I'd damaged his work. That report kind of caught fire, but I guess I can find solace in that people feel as passionately about the story as I do."
Rob says he knew fans would understand when they saw the finished film – helped by Meryl Streep's Oscar nomination for her turn as the Witch, as well as two other nods for production design and costume design. Rob's a veteran of getting established stars to sing – would he prefer to do this over getting singers to act?
"Everyone has to audition, they and I need to know they can do it," Rob explains. "I'm looking for both modes of expression. But if I had to lean to one, I'd go for an actor. These characters have to come to life. And I'm happy with imperfections."
'Into the Woods' is out now on Blu-Ray and DVD. Watch the trailer below...
Related