Former 'Apprentice' contestant Katie Hopkins has continued her feud with pop singer Charlotte Church by calling her a "fat Welsh Russell Brand" and dubbing her a "chubster".
The argument between the two, dubbed "singer vs. minger", kicked off after Charlotte was spotted at an anti-austerity march in Cardiff shortly after the election.
Katie called out the Welsh singer on Twitter, telling her to "wind her neck in". A short few exchanges on the social media site led to Charlotte challenging "parasite" Katie to a boxing match.
Oi! @charlottechurch wind your neck in. Your Welsh AND you lost. Own your problems http://t.co/yq2cpoSW9W pic.twitter.com/rFbA9XKQTl

— Katie Hopkins (@KTHopkins) May 9, 2015
@KTHopkins I have no interest in ever conversing with you. You lack humility AND you can't spell. Parasite.

— Charlotte Church (@charlottechurch) May 10, 2015
@TeeJay2201 I'd relish to opportunity to lawfully smash her face in. #i'dtrainhard #likearockymontage #foreveryone

— Charlotte Church (@charlottechurch) May 10, 2015
Lavishly accepting the challenge, Katie used her newspaper column to diss "Chubster Chuch" even more. She said: "Voice of an angel? Mouth of a gutter wench.
"Come on Charlotte, let's see who's tougher. While you were eating sausage rolls in between songs I was graduating from Sandhurst and running 800m for the Army.
"Despite being in a different weight division and the fact my arms dislocate when I sneeze courtesy of my epilepsy, I still reckon I could knock that gurn off your face."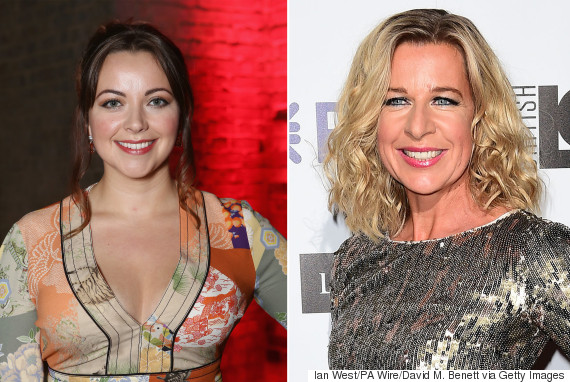 If things between the two stars continue to heat up, we may be in for a treat. Boxing channel BoxNation have offered up £100,000 for the pair to fight it out in the ring.
The sports channel will cough up the cash to the winners chosen charity, they say. They've also promised to provide adequate training so Charlotte and Katie can have a fair fight.
At the rally which started the whole feud, Charlotte told a crowd: "This week the UK masochistically condemned itself to five years of Tory rule.
"Without the Liberal Democrats to centre them they have no restraints, nothing to stop them from destroying our welfare system, selling off our health service, and even making constraints upon democracy.
"Iain Duncan Smith's Department for Work and Pensions has already drawn up a list of areas where cuts could be made. All are controversial.
"Abolishing statutory maternity pay, making it harder for those with chronic illness to get help, making it impossible for those under 25 to receive virtually any benefit whatsoever.
"This is a government that does not care about its people and is only interested in cosying up to big business."
Staunch Conservative voter Katie hit back on Twitter saying: "Wind your neck in. You're Welsh AND you lost. Own your problems."
SEE ALSO: