A petition to have the student diversity officer at Goldsmiths University sacked after she tweeted "#killallwhitemen" has reached more than 12,000 signatures.
Bahar Mustafa also reportedly tweeted someone was "white trash", and has insisted the tweets were "in-jokes" and a way of "reclaiming power".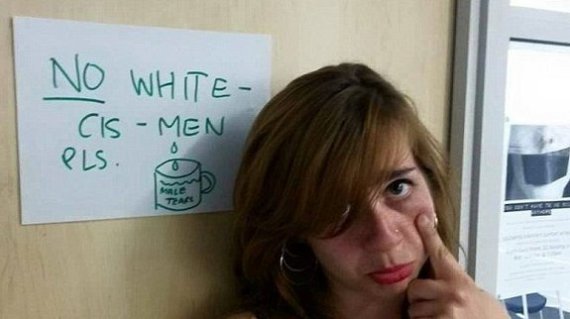 Bahar Mustafa, posing outside a sign which depicts a cup of "male tears"
Mustafa, who previously said she couldn't be racist or sexist as she was a woman of colour, used the official students' union account to send the tweets. The account has since been shut down.
The vice president for welfare and diversity at the London university previously came under fire for telling white people and men they were banned from an anti-racism event hosted last month. Goldsmiths' students' union later backtracked, saying everyone they were welcome.
Read More:
The petition on Change.org, started by Andy Keene, asks: "As a university recognised in the United Kingdom and in receipt of endowment you should recognise that this type of hate speech is unforgivable in terms of hate crime legislation in the United Kingdom.
"This is a very serious offence and it is not something which has been done for individual debate, it is forced segregation by a so called "Diversity Officer" whom calls for the murder of a race due to their skin colour and gender using the university name on a public platform."

Mustafa's message on Facebook about the anti-racism event, which was later deleted
HuffPost UK has contacted both Goldsmiths University and the students' union but has yet to receive a reply.