It took director Amir Amirani eight years and two re-mortgages to bring this to the screen, and it shows. 'We Are Many' is an incredibly ambitious film, charting the journey to and beyond the biggest global protest in history - the March against the war in Iraq of February 2003. Two million people walked the streets of London, an effort mirrored in different forms in almost 800 locations and stretching to Australia and the Antarctic.
An eclectic roll call of characters - Damon Albarn next to Brian Eno, via Noam Chomsky, Ron Kovic and Colin Powell's Chief of Staff - recall the roller coaster of anger about the West's reaction to September 11th, when all political eyes became fixed on Iraq, to delight about the success of the march, to incredulity that the voices of so many people were ignored and Shock and Awe still happened.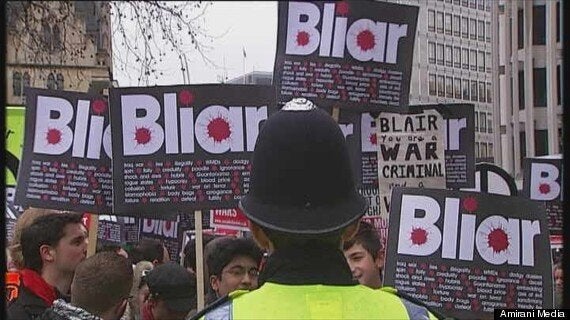 Two million people gathered on the streets of London in February 2003
What Amir makes clear, however, is that the story doesn't end there. While Egyptian activists watched in disbelief as these "white, whisky-drinking infidels" in the West showed them how to mount a civilised protest, they also learned from it - and the fruits were seen less than a decade later, when they made their feelings known about their own situation.
For me, even among the many moving voices of activists, war veterans throwing their medals away, victims of 9/11 and the seasoned tones of Tony Benn, the saddest, sweetest moment was still watching Robin Cook making his dignified resignation from Government, and choosing conscience over self-interest.
Anyone doubting the value of protest should watch this film, for proof that the ripples of political pebbles can spread wide, and far beyond any immediate effects - or lack thereof. As well as a gripping story, 'We Are Many' is a timely reminder that we are still those pebbles, if we choose to be.
'We Are Many' debuts this evening in the UK. For more information regarding screenings and release, go to the film's Facebook page here.
Related