The boys are back in town... as movie star Vincent Chase brings his 'Entourage' to the big screen, for fresh romantic capers and professional mishaps.
And, judging from our Exclusive Video above, it might just make for poignant viewing for Piers Morgan, who gets a big cameo in the film. Piers filmed the slot back when he was an actual US TV show host, before his unceremonious departure from CNN last year.
We also go behind the scenes with co-stars Adrian Grenier, Jeremy Piven, Kevin Connolly, Jerry Ferrara and Kevin Dillon, who speak about what's in store for their characters in the film, plus there's good news for new fans... you don't need to have sat through the eight hit seasons of the TV show to understand what's going on.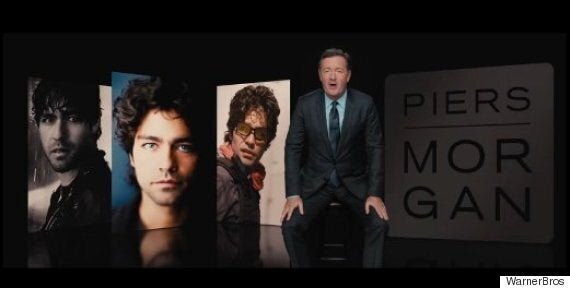 Piers Morgan has a cameo in the new 'Entourage' movie, filmed back when he was an actual US TV show host
It's pretty simple... the inimitable Ari Gold has a studio to run, and his beloved protege has a dream that might just derail the whole thing.
Also starring in the film are Billy Bob Thornton and Haley Joel Osment as father and son, Larsen and Travis McCredle.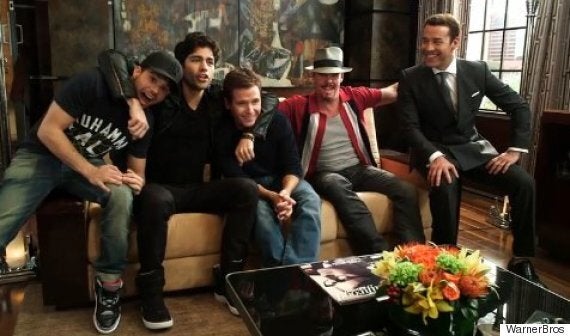 The boys are closer than ever in the new film, which can reportedly be enjoyed without prior knowledge of the show
Returning cast from the series also includes Perrey Reeves as Ari Gold's wife; Emmanuelle Chriqui as Sloan; Rhys Coiro as Billy Walsh; Debi Mazar as Vince's publicist, Shauna; Rex Lee as Lloyd; Constance Zimmer as Dana Gordon; and Nora Dunn as Dr. Marcus. Emily Ratajkowski appears as herself. Rounding out the cast are Alan Dale, who appeared in the series, rapper Scott Mescudi, and Rhonda Rousey.
'Entourage: The Movie' is in UK cinemas from 19 June 2015. Watch the trailer below...
Popular in the Community