Parents have discovered that the NHS will cover the cost of some children's over-the-counter medication, such as Calpol, after one mother's Facebook post went viral.
Christine Davidson's post, in which she explained parents could be saving a small fortune thanks to a little known "minor ailments scheme", was shared over 100,000 times on Facebook.
"I was in Boots yesterday buying Calpol and happened to complain to the cashier how expensive it is," she wrote in the post.
"She told me, to my amazement, that if you register your details with them under the 'minor ailments scheme' that all medicines for children are free - a scheme that has been going for eight years."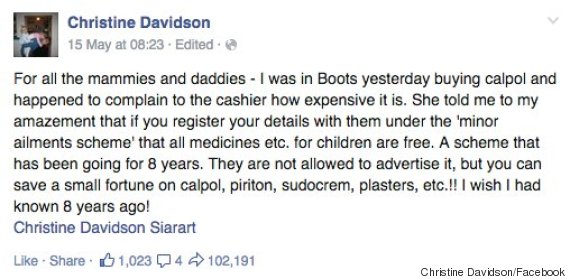 The NHS Minor Ailments Scheme has been active for more than ten years.
It covers minor illnesses such as coughs, colds, eczema, hayfever and headaches, and is aimed at people who don't pay for prescriptions - namely those under 19 and OAPs.
However, this is only true if local pharmacies are participating in the scheme.
SEE ALSO:

David Cameron Says The NHS Is Safe In His Hands. Erm...

Parents Spend Hundreds Preparing For A Baby Boy... Then Mum Gives Birth To A Girl
The scheme was designed to help families with lower incomes and also to relieve pressure on GPs so they would have more time to focus on patients with more serious health worries.
Minor ailments are defined as "common or self-limiting or uncomplicated conditions, which can be diagnosed and managed without medical interventon".
HuffPost UK Parents contacted NHS England for a comment.
A spokesperson said: "These minor ailments schemes were established to provide NHS funded, over the counter medicines to people on lower incomes.
"The scheme prevents the need for patients to have medicines for minor illnesses prescribed by a GP - leaving the GP more time for patients with more complicated conditions."
Minor Ailment schemes are usually commissioned by Clinical Commissioning Groups (CCGs) to meet their own local needs, and the spokesperson said they do not hold a list of pharmacies who are currently providing the scheme.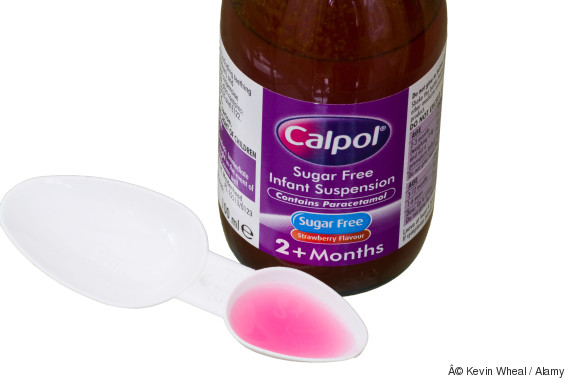 Dr Helen Webberley is a GP in Wales who also specialises in online medicine for Oxford Online Pharmacy. She told us:
"As a busy GP, a lot of my day is filled with requests for treating minor illnesses.
"With recent advances in training in healthcare, pharmacists and nurses are taking on a lot more of the minor illness treatment, but aren't necessarily qualified to prescribe medication, only advise on its use.
"The 'Minor Ailment Scheme' allows registered pharmacies to supply certain medications on NHS prescriptions.
"As a Welsh GP I find many people taking up valuable appointments to take advantage of the free prescriptions for items that they would be able to purchase at a low cost in the local chemist, or even cheaper in the local supermarket.
"What can cost 16p in the local store, can cost pounds to the NHS once the doctor or pharmacist has been paid to assess the patient and issue the NHS prescription."
Webberley said we must keep in mind nothing is free and everyone has a duty to make sure NHS resources are used sensibly.
"Calpol is an expensive branded version of paracetamol," she added.
"When I visit patients at home and see the 'free' prescription tablets, creams, dressings that are pouring out of their medicine cabinet, I wonder whether 'free' is always good."
The minor ailment scheme covers:
Colds
Conjunctivitis
Constipation
Coughs
Diarrhoea
Earache
Hayfever
Head lice
Headache and fever
Heartburn and indigestion
Insect bites and stings
Mild eczema and dermatitis
Mouth ulcers
Nappy rash
Sore throat
Teething
Threadworm
Thrush