Comedian Stephen Fry has asked the people of Ireland to vote 'yes' in Friday's referendum on gay marriage, explaining (in Gaelic) that he wants the "same happiness" he has found to be "offered in Ireland too."
The writer and actor, who married his partner Elliott Spencer earlier this year, featured in a film made by Irish comedians Aisling Bea and Jason Byrne encouraging voters to make gay marriage legal.
"Give people a chance to marry and have their love celebrated," said Fry on the set of his long-running quiz show QI. "I mean in the kindest way possible to try and connect with you all because so many of us are thinking of you and this referendum that's coming. This is a chance for Ireland to make an extraordinarily proud noise in the world."
The film also features contributions from Sean Lock, Jimmy Carr, Rich Hall, Russell Kane, Rob Beckett and Jack Dee, the latter backing the 'yes' vote before rescinding his endorsement, quipping: "No, I don't agree no, women and men that makes me sick."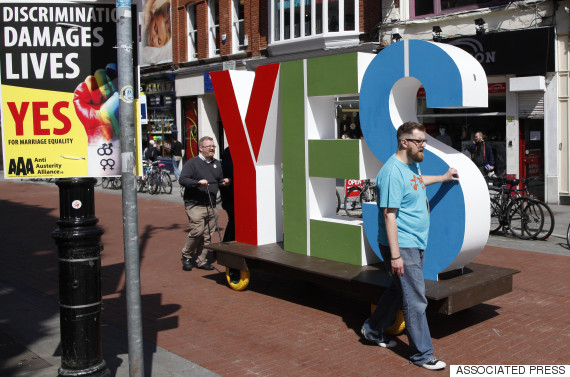 Members of the Yes Equality campaign begin canvassing in the center of Dublin, Ireland, Thursday May 21, 2015
Some 18 countries, including the UK and Portugal, currently allow gay marriage, along with several US states. More countries are scheduled to follow in the coming years, including Slovenia and Finland.
Ireland is so far the only country to put the matter to a referendum rather than direct legislation, with opinion polls suggesting a victory for the 'yes' campaign, despite the protestations of the Catholic Church.
Referendum Friday in Republic of Ireland on gay marriage. Chance to make history and inspire those fighting for equality everywhere.

— michael sheen (@michaelsheen) May 20, 2015
Voters at the polls will be asked to vote on the following addition to the Irish constitution: "Marriage may be contracted in accordance with law by two persons without distinction as to their sex."
Ireland introduced same-sex civil unions in 2010. Homosexuality was still a criminal act until 1993 and abortion remains illegal unless the pregnancy endangers the life of the mother.