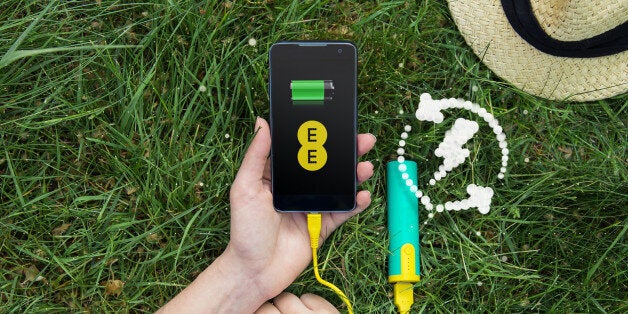 This competition has now closed.
We have teamed up with EE to give one lucky reader the chance to win a pair of tickets to the already sold out Glastonbury Festival 2015 as well as host of festival-ready EE gadgets from the UK's number one network.
Connecting Glastonbury goers for the third year running, EE will be powering this year's festival with the biggest ever EE Power Bar swap service. These simple to use, fully-portable phone chargers will be available to those attending the event on a never-before-seen scale, ensuring as many people as possible on site can stay connected during the UK's best-loved festival.
EE is also providing some fantastic gadgets, perfect for festival goers, as part of this ultimate prize package which includes:
2 x standard Glastonbury camping tickets
1 x Harrier Mini, a powerful 4G smartphone featuring a HD screen and high spec camera, plus the superfast speeds you need for instant uploading, downloading, streaming and browsing.
1 x Osprey 2 mobile Wi-Fi device, which connects to the internet using the EE network to create your own personal mobile Wi-Fi hotspot. You can connect up to 10 Wi-Fi enabled devices such as tablets, mobiles and more, providing you with high speed internet wherever you are – perfect for Glastonbury where EE will be installing a bespoke 4G network.
1 x Buzzard 2 in-car Wi-Fi hotspot solution that sits in your cup holder and plugs into the cigarette lighter. It connects multiple devices at once to keep you online all the way to the festival gates.
1 x EE Power Bar, a compact portable phone charger that provides up to five hours of charging time. When the bar runs out of juice you can simply swap it for a fully-charged one at the dedicated EE Power Bar exchange on site for free over the weekend.
For more information on Glastonbury Festival and all the products EE have created to enhance the festival experience, go to: www.ee.co.uk/glastonbury.
Popular in the Community