Nicole Trunfio has brought breastfeeding to the forefront again after being shot feeding her newborn on the cover of Elle Australia for their subscriber's issue.
The 29-year-old supermodel gave birth to Zion Rain in January this year, and was captured in this shot by photographer Georges Antoni.
Trunfio uploaded the snap to Instagram and it seemed she was unaware it would make the cover:
"Wow! Thank you to ELLE @elleaus for such a beautiful cover with my little bundle of joy! My two worlds collide in #juneissue on stands Monday!
"You will see a lot more of our beautiful son Zion Rain Clark (finally!!!) #babyclark" she wrote.
Editor-in-Chief of Elle Australia, Justine Cullen explained: "This wasn't a contrived situation: Zion needed a feed, Nicole gave it to him, and when we saw how beautiful they looked we simply moved her onto the set.
"It was a completely natural moment that resulted in a powerful picture."
Trunfio later uploaded the photo again to Instagram, with a new caption discussing how powerful motherhood can be.
"The last thing I want to do is be controversial, so please take this for what it is, let us #normalizebreastfeeding there is nothing worse than a mother that is judged for feeding her hungry child in public.
"#weareonlyhuman I'm so proud of this cover and for what it's stands for. I obviously don't look like this while I am breastfeeding but this stands."
However, only subscribers will receive the June 2015 issue with Trunfio breastfeeding on the cover.
Those picking up the magazine in the shops will have other photos from her shoot, as she also also gave a preview of on Instagram.
She finished her message by writing:
"Thank you to ELLE for being so bold and making such an encouraging, positive and healthy statement."
This isn't the first time a breastfeeding mum has featured on the front of a magazine.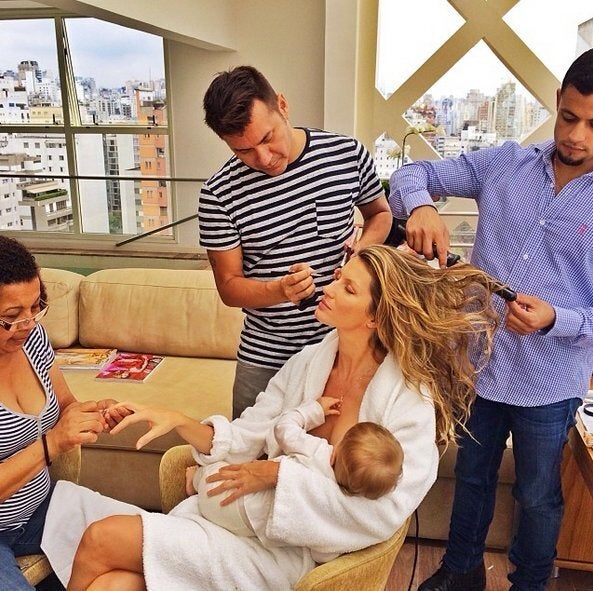 Memorable Breastfeeding Moments In Hollywood