As votes are counted across Ireland, it looks like the country is set to finally recognise gay marriage.
The polls closed at 10pm on Friday night and counting began at 9am the next morning, but while the official result was not expected until around 5pm, early results suggested that a Yes vote was very likely.
In Dublin the result was expected to be a landslide in favour of gay marriage while in many other parts of the country the constitutional amendment was expected to be passed by about two to one.
An official result is expected some time in the afternoon but if tallies from the 27 count centres in 43 constituencies continue the same pattern seen in the first hour, campaigners will be calling it much earlier.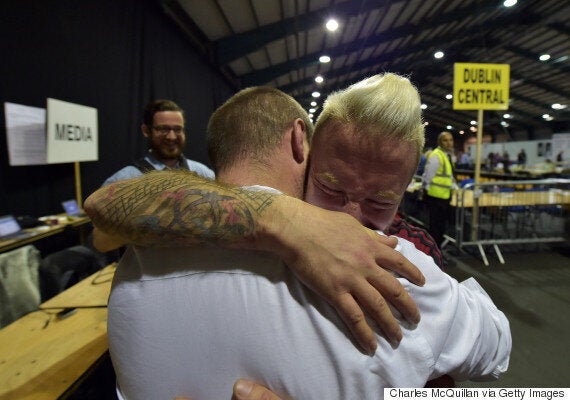 There were emotional scenes as vote counts revealed a Yes result was on the cards
Fianna Fail leader Micheal Martin told RTE Radio that he was confident the result would see the introduction of gay marriage.
"I think it was a debate that captured the imagination and I had a strong sense that the Yes vote would win," he said. "I think that will be borne out today."
Results from the constituencies will be fed back to the count headquarters in Dublin Castle, where about 2,000 people are expected to gather in the upper courtyard to mark the day.
It is only 22 years since Ireland decriminalised homosexuality.
Voters were asked one simple, specific question on whether to amend Article 41 of the 1937 Constitution by adding a new clause to a section titled The Family.
It asked them to support or reject a change to the 78-year-old document which reads: "Marriage may be contracted in accordance with law by two persons without distinction as to their sex."
It does not suggest any change to the definition of the family or remove any outdated references in the section, including those that state a woman's place is at home.
If passed, it would be the 34th amendment to the constitution but, regardless of the result, the campaign will rank with other hotly-contested issues such as divorce and abortion.
Other countries have held referendums on gay marriage, including Croatia, Slovakia and Slovenia, where the extension of the right was not passed by the electorate.
Rejoicing had already begun on social media by the late morning, with many labelling this a historic day for Ireland.
Ireland's equality minister, Aodhán Ó Ríordáin, tweeted: Ireland hasn't just said "Yes"...Ireland has said:"F❤️CK YEAAHHHH"
Others were quick to follow suit…