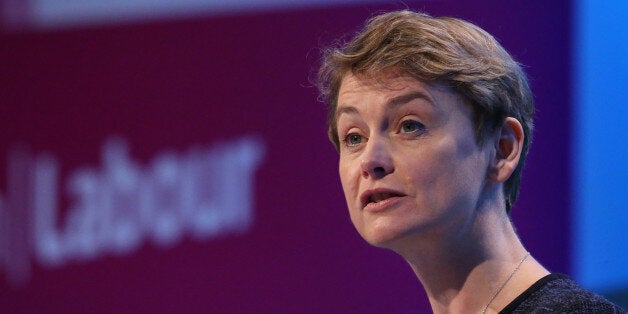 Yvette Cooper has warned Labour against swinging either to the Left or Right after its shattering election defeat, declaring that the party can't afford to "flail" about in the face of a Tory government.
Pitching herself as the unity candidate in the leadership election, the Shadow Home Secretary hit out at those who believe "there needs to be blood on the floor for the Labour Party to rise again".
In what seemed to be direct attacks on rivals Andy Burnham and Liz Kendall respectively, she said "doing what we've done before but shouting that little bit louder" would not work, and neither would "swallowing the Tory manifesto".
Writing for The Huffington Post UK, Ms Cooper lambasted Ed Miliband's 'failed strategy' of assuming Liberal Democrat voters would collapse in his direction, adding that "not enough people trusted us with their future' nor were 'convinced we could do the job".
But she also attacked colleagues who have claimed that Labour cannot win the next election and urged the party to focus on a "2016 strategy" of winning elections for the Mayor of London, Welsh Assembly and Scottish Parliament.
"The mountain we now have to climb is high. But there are some who mutter that we should give up. That there needs to be blood on the floor for the Labour Party to rise again. That we should swing our party far to the right or far to the left, then fight it out from first principles all over again.
"They believe we simply can't return to office in under a decade. They advocate, not a 2020 strategy, but a vague plan to win in 2025.
"We cannot repeat the same mistakes again. But nor can we give in to despair, write off the next election as we flail about, or give in to the Tories - as I've heard too many people starting to suggest. Those who depended most on a Labour Government have already been let down, we cannot let them down again."
Earlier this week Ms Kendall delivered a scathing critique of Miliband's failures on public service reform and fiscal credibility. Meanwhile, Mr Burnham insisted he is independent of trade union barons but has underlined his determination to represent rank and file union members.
In what appeared to be a veiled attack on her rivals' perceived weaknesses, Ms Cooper said today: "Acerbic critiques and the rapid washing of hands won't make Labour win again. Nor will doing what we've done before but shouting that little bit louder.
"We can't repeat the narrow approach of the last five years. But nor should we think the answer is to swallow the Tory manifesto instead."
And in what seemed to be a direct riposte to Ms Kendall's speech to the Westminster Press Gallery, she added: "We won't win 2020 through speeches or dinners in Westminster, we'll win in the sports halls and living rooms, offices and canteens, working men's clubs and school gates across the country."
With their critics claiming that Mr Burnham and Ms Kendall are the 'Len McCluskey' and 'Blarite' candidates, Ms Cooper stressed that the party and the public deserved a wider debate, "not just a closed down or polarised contest".
Some MPs have complained that Unite and other supporters of Mr Burnham have been trying to "strong arm" them into signing up to his campaign before anyone else.
New intake MPs Stephen Kinnock and Jo Cox have called for the leading contenders to lend MP nominations to help other candidates get on the ballot paper. In her blog, Ms Cooper hinted that she'd consider such a plan, stressing she wanted "as many people as possible involved in the leadership election".
Fleshing out more of her policy prospectus, Ms Cooper also said Labour should "call George Osborne's bluff" on devolving power to local areas, by "putting power in the hands of Labour local government" and pushing decision-making even further to communities.
The daughter of a trade union official, she underlined her own roots in the party, as well as her experience as a former minister and senior Shadow Cabinet minister during the past Parliament.
"I've been part of our Labour movement since I marched as a child with my dad under the union banners on the Peoples March for Jobs in the eighties, through to bringing in Sure Start or improving cancer care as a Labour Government Minister.
"I know both the great talent and strength of our party to refresh and renew, but also the real despair of long years in opposition, powerless to help people get on. We cannot go there again," she wrote.
Labour's leadership ballot begins in August and the winner will be announced at a special conference on September 12.
As well as Mr Burnham, Ms Cooper and Ms Kendall, Shadow International Development Secretary Mary Creagh has also announced she wants the top job.
With the State Opening of Parliament due next week, the race is on to see which candidates will have gathered the required 35 nominations from MPs by June 15.
The BBC announced yesterday that the first televised hustings would be broadcast live on BBC2 on June 17. Newsnight's Laura Kuenssberg will chair the event.