Take a look at this picture.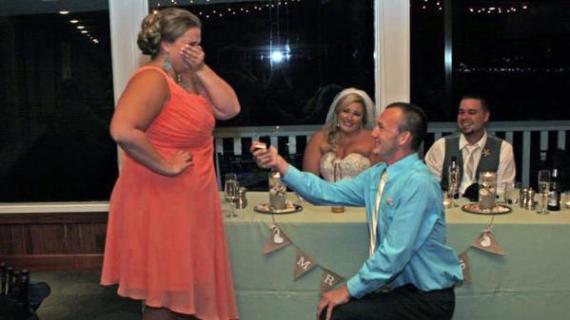 At some point in his life, this gent decided it would be romantic to completely ruin his friend's wedding and steal all the limelight from someone else's special day.
As Jezebel points out, he even had the nerve to put his half-drunk beer down in front of the bride before he did it.
The bride looks far from pleased.
The people of Twitter and Reddit appear to be in agreement - you should never, ever, ever steal someone else's wedding for your own proposal. EVER.
Can't believe this actually has to be said, but no, do not propose at someone else's wedding. http://t.co/zxW710bID7

— dustin faber (@16bitCatholic) May 27, 2015
@Fatted_Calf that's like announcing you're pregnant while you're there to see somebody's newborn. No damn chill.

— Kristal (@Kristal4UA) May 27, 2015
I would have punched this guy in the nuts no matter how long I've known him lol http://t.co/h9EMwVomUq

— Ally M. (@CityStyleLife) May 28, 2015
I would have a burning rage inside that would last for a very long time if that ever happened to me.Talk about rude!! http://t.co/g3TfSx6JaZ

— MarvelandWhismy (@MarvelandWhimsy) May 27, 2015
He's. Gotta. Die RT @Gawker: Honestly, this guy is the WORST: http://t.co/uA3FLMWbVl pic.twitter.com/l1kblzIKEG

— Jawn Valdez (@wittykitty5) May 27, 2015
Judging by these comments, what this man has done is essentially steal romance from his friends.
@HuffPostUKCom Get them to go halves on the cost of the reception?

— Andy Gilderdale (@AndyGilder) May 28, 2015
@HuffPostUKCom completely illegal manoeuvre. Red cards all round. #theirdaynotyours

— Daniel Hill (@DannyHill73) May 28, 2015
@HuffPostUKCom Blokes wouldn't mind, women would go ballistic! #youstolemymoment

— Craig Hughes (@Badgerous1) May 28, 2015
SEE ALSO: