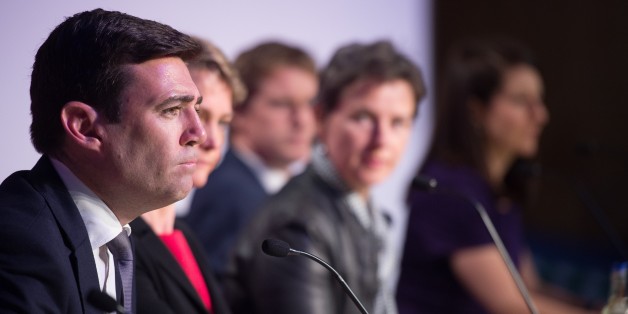 LEON NEAL via Getty Images
Andy Burnham has become the first Labour leadership contender to announce the 35 MPs needed to get on the ballot paper.
Unveiling a tranche of new names this evening, the Shadow Health Secretary crossed the line with the backing of several members of the 2015 intake to the House of Commons.
Yvette Cooper has so far announced 31 MPs who are supporting her campaign, while Liz Kendall has 21 supporters and Mary Creagh just six.
Under party rules, a candidate needs 15% of the Parliamentary Labour Party in order to get past the first stage of the election and get onto the ballot paper. The election will take place in August with a winner announced on September 12.
The announcement came on a day when Mr Burnham hit out at his party for being too concerned with 'the Metropolitan elite' than the broader range of voters needed for election victory.
The newly-elected MPs unveiled this evening were Angela Rayner, Peter Dowd, Justin Madders, Nick Thomas-Symonds, Harry Harpham, Rachael Maskell, Louise Haigh and Rebecca Long-Bailey.
A source in the Burnham campaign told The Huffington Post UK that the list of four men and four women underlined the breadth of his support. "Some union figures, some Blairite. But they all see that Andy is the real change candidate in this contest," they said.
Speaking to Pienaar's Politics on Radio 5 Live, Liverpudlian Mr Burnham warned the top of the party does not "look and sound enough" like the rest of Britain, arguing he is "best placed" to re-establish an "emotional connection" with voters.
And in an ominous warning, the Shadow Health Secretary, considered the leadership frontrunner, said the May 7 election drubbing may not be the party's "lowest point".
His comments on the "metropolitan elite" - a term used pejoratively by Ukip's Nigel Farage and the SNP's Nicola Sturgeon in the past - will be seen as a swipe at Liz Kendall, arguably his closest rival who is seen as a "Blairite".
In the interview, Mr Burnham, seen to be from the left, also criticised Labour's proposed "mansion tax", but only seemed to go as far as having a problem with "the label" - saying he supported the "principle" of slapping a levy on high-value properties.
.@andyburnhammp is live with me now on @bbc5live. Listen: http://t.co/gvlkGDms7N

— John Pienaar (@JPonpolitics) May 31, 2015
Asked about whether relative newcomer Ms Kendall was "deluding herself", Mr Burnham - an MP since 2005 and former adviser to Gordon Brown - said Labour needed "people who have been around for a while".
He told the show: "The Labour Party is facing a serious situation. We cannot assume that the last election was our lowest point.
"There is a real challenge out there. Labour has lost its emotional connection with many people in Scotland - that much is clear - but in the north, in the midlands, in the south to Ukip.
"They don't see people they can relate to. They don't look and sound enough like them. I feel for too long there has been a sense of a metropolitan elite at the top of the Labour party.
"That is what I will change. We need to get back in touch with people all across the UK and I believe I am the person best placed to do that."
On the mansion tax, Mr Burnham said it made Labour look "narrow, spiteful, the party of envy", but added: "I don't back away from the principle, but presentationally it had problems."
The Labour leadership race, which got off to a slow start, is now marked by thinly-veiled criticisms among rivals as the debates widen.
Yvette Cooper, another one of four in the race, today criticised those using "stigmatising" language about benefit claimants - just days after Mr Burnham said the party needed to address the perception that it gives an "easy ride" to some on welfare.
The Shadow Home Secretary told the Andrew Marr show on BBC1 that "we should not stigmatise people because I don't think that's what Labour is about".
On the programme, she also repeated a line made in a recent HuffPostUK blog, that Labour should not 'swallow' the Tory manifesto. The remark was seen as a dig at Ms Kendall, who has backed policies such as Free Schools.
She and Mr Burnham both today insisted Labour should keep its policy to raise the highest tax rate to 50p for high earners.
In a statement tonight, Mr Burnham said Labour had to address the concerns of those who voted Tory and UKIP, while offering distinctive Labour solutions.
"We need to go straight to the difficult issues as to why Labour lost the election. I'm not just running a leadership campaign, I'm building a campaign for Labour to win in 2020. If we're going to do that we're going to have to face head on those difficult issues around spending, immigration, benefits and our relationship with business," he said.
"Don't copy the Tories, we need to develop Labour answers in those areas. We've got the looming European referendum, it's time for Labour to get off the back foot on immigration and challenge David Cameron to develop a package that the British public can support, where people are free to work but not free to claim."