A picture has emerged of the moment a dog was delivered safely to shore by lifeguards, shortly after his owner's dinghy capsized dramatically.
Rescue crews pulled the man and his dog to safety, after the two ran into attempting to dock in a harbour on Sunday afternoon.
The man, accompanied by his pet, Leo, had been travelling from Christchurch to Poole in a boat only 15 feet long, but had to be hauled to shore by emergency services officers when they ran into trouble.
Volunteer helmsman Ed Davies said: "Conditions in the harbour were choppy, the wind was northwesterly force 5 and the first vessel got caught out.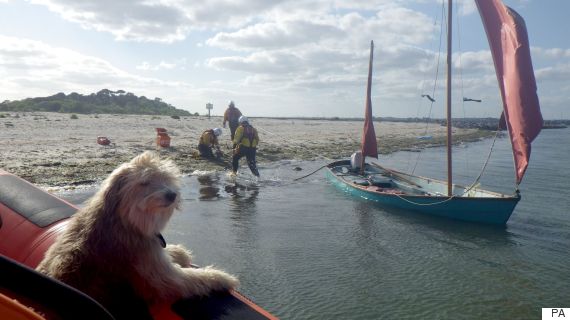 Leo grins as he's delivered safely to shore
"They were only in the water briefly as they were lucky that another vessel was nearby to pick them up. We were pleased to save his boat."
Lifeguards towed the swamped vessel in and beached it on to a small front north of Brownsea.
The flooded dinghy was saved after the RNLI team used a powerful salvage pump.
Both Leo and his unnamed owner were checked over and, luckily, found to be uninjured.