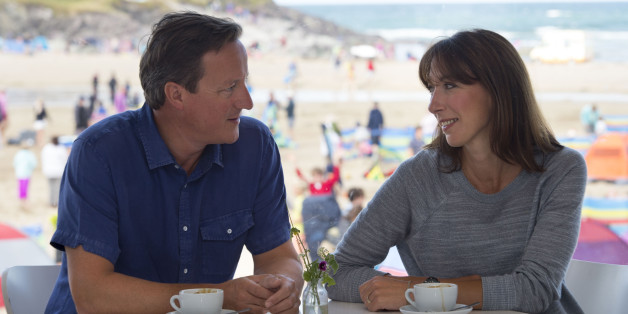 Matthew Horwood via Getty Images
David Cameron has admitted to being "jealous" of wife Samantha after she was photographed on holiday in Ibiza.
Speaking to ITV's This Morning, the Prime Minister confessed he was "a bit greedier" than his wife and that he was not "beach body ready".
But he claimed his downfall resulted from eating "quite a lot of meals" while on diplomatic tours.
The premier is touring European capitals to thrash out a new EU deal, and singled out a recent "three course breakfast" - which included smoked trout, cheese, asparagus with poached egg and ham, and strawberry salad.
A bikini-clad Mrs Cameron was splashed on the front page of the Mail on Sunday this weekend while at the public Cala Nova Beach, an upmarket resort on the south east of the island.
Tomorrow's Mail On Sunday #MailFrontpagespic.twitter.com/sqjsPofXpp

— Daily Mail U.K. (@DaiIyMail) May 30, 2015
Mr Cameron has previously conceded he faces a battle against the bulge.
After being photographed topless on a beach in Cornwall, he admitted to carrying "a little extra".
Asked how he felt when he saw the pictures of his wife, Mr Cameron told presenter Ruth Langsford: "I'm very lucky to have such a wonderful wife and she took the children off for a nice holiday while I was slogging around Europe trying to get this negotiation right so I was a bit jealous actually."
Asked whether he was "beach body ready", he said: "I'm not as good as Samantha at controlling what goes in, I'm a bit greedier, she's very disciplined.
"I've probably got a few things to learn off her. I try to go for a jog and play a bit of tennis, try to stay fit but when you do these European tours there's quite a lot of meals.
"I was always brought up [being told] you've got to eat what is put in front of you and that's not always a good idea … I think I had a three course breakfast [on tour], I don't normally have a three course breakfast I can tell you!"