The head of one of the world's biggest football associations has been suspended by Fifa's ethics committee, it was revealed on Monday.
Enrique Sanz, general secretary of Concacaf, has been forced out of the top post overseeing the governance of football in North and Central America as well as the Caribbean.
The association's president, Jeffrey Webb, was one of seven senior football executives arrested by the US in dawn raids ahead of Fifa's 65th annual congress in Switzerland last week.
Fifa announced on Monday that Sans had been provisionally suspended and faced a ban from any "football-related activities".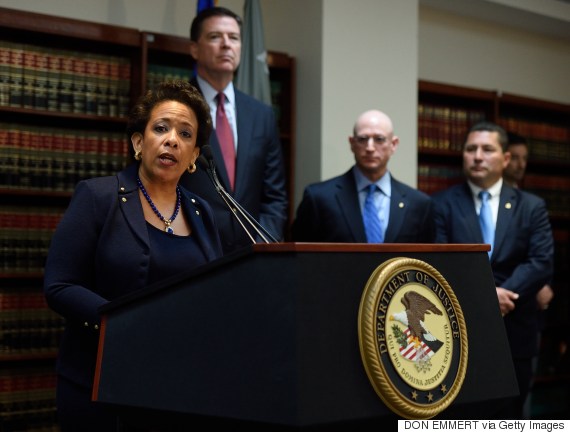 Attorney General Loretta E. Lynch announces charges against FIFA officials on May 27 2015
In a joint operation between authorities in the US and Switzerland, Concacaf's Miami-based offices were raided in tandem with the arrests of Fifa bosses in Zurich.
The global football association, which has long been dogged by accusations of high-level corruption, stated the action taken against Sans was "on the basis of investigations carried out by the investigatory chamber of the Fifa ethics committee and the latest facts presented by the US attorney's office for the Eastern District of New York".
Two of his colleagues in Congo's FA were also revealed to have been awarded similar penalties and banned from football by Fifa.
Vice-president Jean Guy Blaise Mayolas and general secretary Badji Mombo Wantete were suspended "based on the fact that various breaches of the Fifa code of ethics appear to have been committed by said officials".
SEE ALSO