Former Fifa vice president Jack Warner has heaped further shame on the sporting body by citing a satirical article on The Onion as the reason behind the prosecutions of key officials.
In an eight-minute Facebook video, which was taken down but later republished on YouTube, Warner claims the charges against him and 13 others were motivated by America's desire to host the World Cup.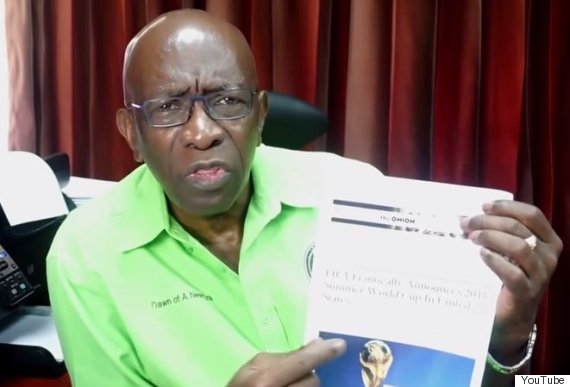 Former Fifa vice president Jack Warner is pictured with a copy of an article published on satirical website, The Onion
"All of this stems from a lost bid to host the 2022 World Cup," Warner says, while holding up a printed copy of the joke article which states that Fifa has announced a 2015 Summer World Cup in the US, to appease US officials.
In the video, Warner, 72, says "this conspiracy has gone too far", and that he is enduring a "most difficult" time, apparently unaware that the article is not real proof that America was planning to stage an emergency World Cup in the USA after the corruption allegations surfaced.
Warner accuses the USA of "double standards" for working with Fifa to host the supposed tournament, given that it has accused the body of corruption.
"If Fifa is so bad, why is it the USA wants to keep the Fifa World Cup?" he said.
Warner surrendered to police in Trinidad and Tobago on Wednesday but was released after paying $400,000 in bail. He has mantained his innocence.
Fifa re-elected Sepp Blatter as president on Friday.
The next two World Cups will be hosted in Russia in 2018 and Qatar in 2022.
SEE ALSO