Two carriages on a rollercoaster ride collided today at Alton Towers.
Passengers on the the Smiler ride at the Staffordshire theme park are currently being evacuated.
Sixteen people were on one carriage, while the other was empty, when the incident took place.
People at the theme park reported hearing a loud bang from the ride, followed by the sound of metal on metal.
According to Sky News, four people were seriously injured in the crash.
@altontowers not what I expected to see today.. 2 carriage crashed into each other on the Smiler!!! #notgood! pic.twitter.com/aX8mBDaX7K

— Helen Critchley (@princesshelen15) June 2, 2015
This is crazy #AltonTowers pic.twitter.com/GupmhH0B8h

— Lauren (@Laurenletitia13) June 2, 2015
Steve Parry of West Midland Ambulance Service said that those injured are understood to be teenagers - two male, two female - suffering serious leg injuries.
He told Sky News: "The other twelve occupants of the ride are not thought to be seriously injured.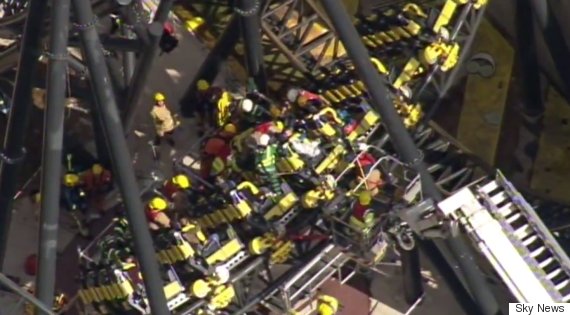 Emergency services work to evacuate those on the ride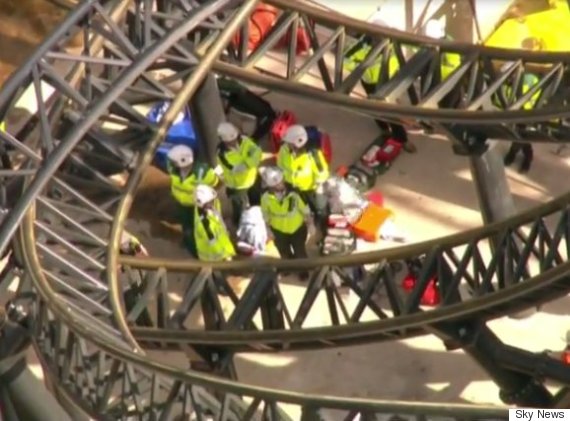 Four passengers have suffered serious injuries to their legs
"A platform has been built up in order for emergency services to reach the occupants on the ride, who are approximately 25 feet up in the air at an angle of about 45 degrees.
"Once released from the ride, all four seriously injured teenagers will be airlifted to major trauma centres at University Hospital Coventry and Warwickshire and Royal Stoke University Hospital for further emergency treatment."
Smiler coasters have just crashed! Watch this space. #Altontowers #gotwhiplashwatching pic.twitter.com/xYRMRO9h7I

— Benj (@_ben_jamming) June 2, 2015
In a statement, Alton Towers said: "There has been an incident on the Smiler this afternoon involving two carriages coming together on a low section of the track. One of the carriages was empty and the other had 16 guests in.
The resort's fully qualified first responders were on the scene immediately to assist with the evacuation which is ongoing, and the area has been closed to allow for access to emergency services vehicles.
"To ensure the safe and timely evacuation of guests, a platform is being constructed. This will take a few minutes but will enable us to proceed more quickly.
"There will be a full investigation once we have recovered the guests, who are our priority."
One visitor claims to have taken this video five seconds after the collision:
@JamieSmith_YT I don't use Twitter if I can help it, today is an exception #smiler #AltonTowers pic.twitter.com/Co7wxcDVui

— Skootay (@skootay) June 2, 2015
Been a fan of #altontowers for 15 years but I am outraged about what's just happened. Two cars crashing on #smiler pic.twitter.com/UYhOdhSZv6

— Kirsty Wild (@kirstythewild) June 2, 2015
Big accident at Alton Towers, one train from The Smiler crashed into the other... Judging from what I saw it will be on the news soon!

— Danny Simm (@DannySimm) June 2, 2015
Come to alton towers for the day... The smiler crashes... Brilliant pic.twitter.com/x1hs8Pc4RK

— Lee Whittingham (@TheREAL_Leewhit) June 2, 2015
Park visit Danny Simm described the scene: "People unconscious knocked out... Blood everywhere it really was shocking."
Just hours before the incident visitors reported getting stuck on the ride on social media.
Alton Towers.... Stuck on The Smiler pic.twitter.com/4fqcMRgpMT

— Tom Welton (@tomwelton27) June 2, 2015
Something bad happened at the smiler, air ambulance flying over, Big Bang heard. Was on it earlier!

— Tom Welton (@tomwelton27) June 2, 2015
Alton Towers was forced to shut the ride shortly after it opened in 2013 after reports that a bolt was seen to have fallen from the ride.
Visitors queueing for the £18million ride claimed to have seen a piece of metal break away from the ride and land near them, leaving a gap in the track.
Some 48 people were evacuated from the ride while technical teams investigated.
😱 "Eyewitness say "people were screaming & shouting" after Alton Towers crash" http://t.co/qJx3STChrq pic.twitter.com/WpTlSV9YBk

— AJ Joshi (@AJ) June 2, 2015
According to the Mirror, the ride also broke down on its preview night leaving 16 journalists stranded for around 30 minutes.
The ride also closed in November 2013 after some "small guides wheels" fell off a carriage, hitting four people, according to the BBC.
Alton Towers' website claims The Smiler ride features "a series of twisted psychological effects including optical illusions, blinding lights and near misses designed to mess with your mind".
It is the world's first 14 loop rollercoaster and has been given an official Guinness World Record for the most loops.
Below is a point-of-view video of the ride (not from today's incident)...
SEE ALSO: