Imagine being able to share your precious birth moments with family members who weren't able to be right there with you...
That's the idea behind Cate DePrisco's latest project. The Kansas-City based photographer takes real-time images of births and shares them on Instagram using the hashtag #InstaBirthStory.
DePrisco stays with mothers during labour to update their friends and family on how everything is going.
"That story was 54 hours long. That meant there was quite a bit of down time so I'd post a photo I was proud of… and before I knew it, I realised I was telling a story and people were following along."
The photographer said the photos generated a lot of positivity, so she asked another mum if it would be okay to follow her labour and she said yes.
"That's how I think Instagram is supposed to be used," DePrisco explained. "It's instantly sharing what's going on in your life."
She set up an InstaBirthStory account when her project started to become popular.
When telling a birth story, DePrisco adds captions to the photos to let followers know exactly what is going on.
She said that for some mothers, having a photographer in the room can take a bit of getting used to at first.
"Once it's all said and done, though, they're SO happy," added the photographer.
"With the last #InstaBirthStory I told, the mother sent me a text two days later that said, 'I think I've gone through our story about 25 times. The hospital stay is such a blur now. I'm so thankful we have that!'"
The mother told DePrisco she was very back and forth about having a photographer in the room, but now she is thrilled. She said: "We forever have a special bond with Cate now and couldn't thank her more.
"Not only for the amazing photos to come, but her detailed and fun documentation of Gwen's arrival - little pieces of the story we might have otherwise not remembered."
DePrisco said mothers are now contacting her as soon as they find out they're pregnant to see if she can record their story.
But the process isn't as easy as it seems, she added.
"With birth photography it can be really easy to mess it up for the entire industry if a photographer does something wrong" she says.
"If someone is photographing a birth they should make sure to follow all of the hospital guidelines and remember while a birth photographer has an important job, the medical staff has an even more important job and they come first."
She explained that using the photo-posting app to tell the story also has its restrictions.
"I keep the photos I choose to share modest," she says.
"I use creative angles to cover private parts… and if something does show in a photo, it's not posted."
It's clear from the photos that #InstaBirthStory captures precious and emotional moments for mothers-to-be.
Would you want to remember your birth story this way? Let us know in the comments below.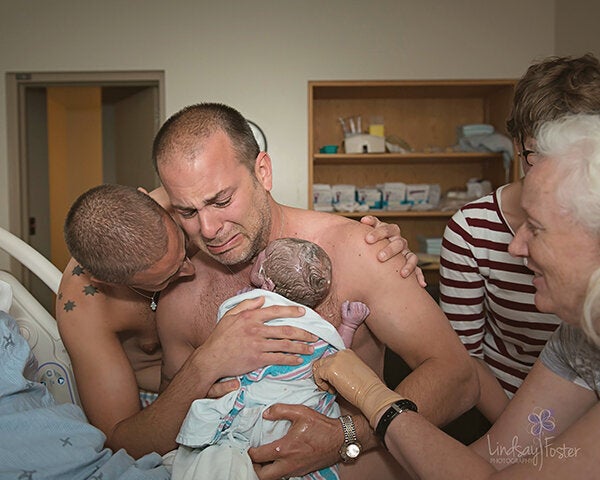 Beautiful Birth Photography