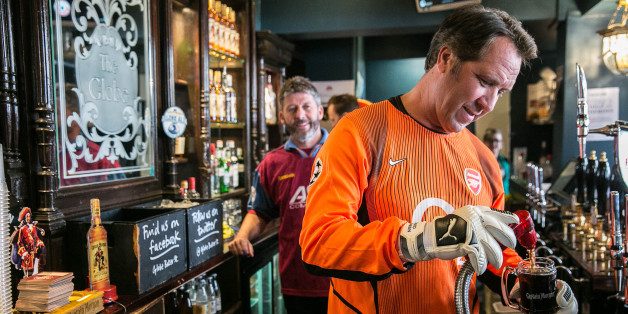 Captain Morgan
Former Arsenal and Aston Villa captains David Seaman and Andy Townsend crashed a pub during Saturday's FA Cup final so the bar staff could watch their teams battle it out for the title.
Organised by Captain Morgan, Seaman and Townsend donned their old kits and went behind the bar at The Globe on Baker Street so the pub's staff could take it easy on one of the busiest pub days of the year.
Football fans flooding the popular London pub to see Arsenal - Villa were surprised to see the two club legends pulling pints and mixing drinks.
Captain Morgan himself said: "Today bar staff at The Globe got to live like the Captain, escaping their shift for a day of camaraderie and adventure with my crew.
"Seeing their reactions when Seaman and Townsend popped up behind the bar was priceless. Everyone should live like the Captain so I'll be bringing more ingenious and irreverent swaps to my fans soon!"
David Seaman said: "I'm good under the crossbar and haven't fared too badly behind the bar today! It was not exactly the kind of pre-match preparations I've been used to as a player, but it was great fun – especially meeting all the fans ahead of the game."
SEE ALSO: