UPDATE: Blatter Resigns, Gary Lineker And Greg Dyke Lead The Jubilation
Fifa president Sepp Blatter has dramatically stood down amid a mounting corruption crisis that raises questions about the two next world cups.
Blatter was re-elected after a damaging series of headlines but on Tuesday he announced he would call a new congress "as rapidly as possible" to elect a successor.
His re-election came after former vice-president Jack Warner and five others were arrested alongside current vice-president Jeffrey Webb and charged with racketeering, wire fraud and money laundering conspiracies in connection with an alleged "24-year scheme to enrich themselves through the corruption of international soccer".
SEE ALSO:
They were accused of engaging in "rampant, systemic, and deep-rooted" corruption.
Just after Blatter announced his resignation, FA Chairman Greg Dyke suggested the 2022 World Cup, which was controversially awarded to Qatar, could be held elsewhere.
Announcing he would stand down, Blatter said he would continue to serve until the next congress could be called.
In his announcement, Blatter, who was first elected president in 1998, said Fifa needed "a structural change of profound nature" and that reforms currently being implemented were "not sufficient".
Blatter read from a statement and did not take questions.
He said: "I have been reflecting deeply about my presidency and about the 40 years in which my life has been inextricably bound to Fifa and the great sport of football.
"I cherish Fifa more than anything and I want to do only what is best for Fifa and for football.
"I felt compelled to stand for re-election, as I believed that this was the best thing for the organisation. That election is over but Fifa's challenges are not. Fifa needs a profound overhaul."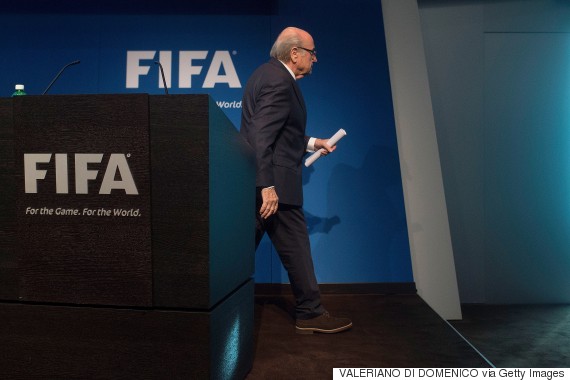 Blatter leaves the stage after delivering his resignation statement at the press conference
Blatter had resisted calls for him to resign, saying as late as Friday: "Why would I step down? That would mean I recognise that I did wrong."
The great and good of the footballing world had turned on Blatter after the arrests last week.
FA Chairman Greg Dyke had been among those calling for Blatter to go, saying Blatter would not last "two years" after his re-election.
Reacting to the news, he said: "We don't know how much Blatter got paid, we don't know what his expenses were. The future is going to be about transparency."
"Great news...If I was in Qatar today I wouldn't be feeling very confident."
He added: "He's stood down. He's gone. Let's celebrate … this is nothing to do with Mr Blatter being honourable, he hasn't been honourable in years."
Gary Lineker tweeted:
Blatter has resigned. Can't quite believe it. FIFA always appeared to be such a fine upstanding organisation.

— Gary Lineker (@GaryLineker) June 2, 2015
Domenico Scala, Fifa's chairman of its audit and complince committee, said Blatter's resignation was a "difficult and courageous decision" and "most responsible way to ensure orderly transition".
Speaking after Blatter finished reading a statement, Scala said: "He has acted with the best interests of Fifa and football in his heart.
"I have a great amount of respect for the president and for the amount of reform he has championed in Fifa."
He added: "Fifa is determined to address the issues that are afflicting Fifa. We wany to fundamentally reform the way in which people see Fifa."