In the latest of our new WISE WORDS interview series - where stars from a whole range of walks of life share the important lessons they've learned along the way - we talk to Cara Theobold, one of the stars of this week's returning hit series, 'The Syndicate'.
Cara is best known for playing Ivy Stuart in 'Downton Abbey', but she's also appeared in 'Call the Midwife'. Tonight sees her starring as one of the female leads in the BBC's ratings hit, 'The Syndicate' which, this time around, follows the staff at a crumbling stately home who win the lottery. Cara talks to us about switching off, and getting on...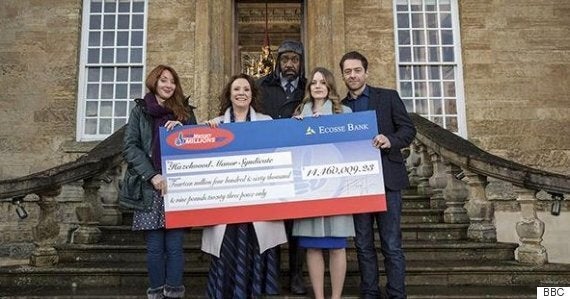 Cara Theobold stars in 'The Syndicate', the latest series from screenwriter Kay Mellor
What do you do to switch off from the world?
I like to get out and about. Living in London, I'd rather walk than get the tube if I can, with headphones in, listen to music. I do the same thing on trains. Let my head escape for a bit.
I don't mind silence. I don't need telly on in the background. I'm happy with what's going on in my own head.
How do you deal with negativity?
Things can travel now so quickly with social media, and you have to recognise it for what it is, which is fear of some sort. It's so unhelpful, in an industry with so many pressures. You have to choose to focus on your own path and your own journey. Ultimately, it's a choice and I'd much rather be having a nice time. And you choose who you keep close to you, you need those who have your back.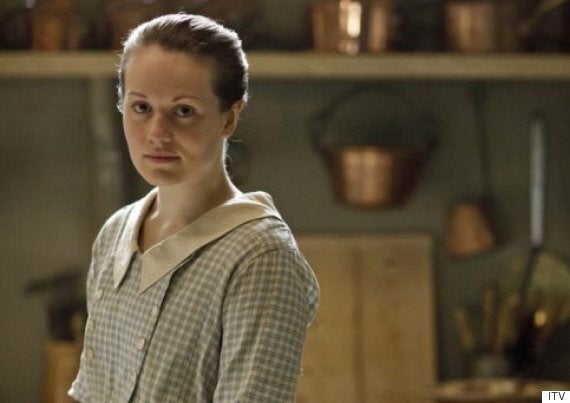 Cara was given some sound advice by fellow Downton Abbey star Jim Carter
When and where are you happiest?
When I'm working on something I'm passionate about, being creative, being with my friends and family, having a good laugh, travelling, going to a new place is very exciting. Going out and having a dance, with my mates.
What's the best piece of advice you've ever been given?
When I left 'Downton Abbey', Jim Carter, who is very wise, said to me, always go for the good work, the interesting parts' and how important it is to pick challenges and that is what will sustain you over a long career. Always go for the things that will challenge you.
What has been the hardest lesson you've learned?
You're not going to get everything, but you have to get on and survive. I've had my share of rejection, as anybody in any part of this industry. The amount of things you audition, and don't hear back, you wouldn't believe. You have to be very strong and have a good sense of self and be resilient, and just keep going.
Cara Theobold says negativity is just a fear of some sort
What would you tell your 13-year-old self?
Not to care what people think about you. Don't give a shit, there's far too much fun to be had if you just let that go.
What 3 things are at the top of your bucket list?
I can't believe I've got to the age of 25 and haven't gone to New York, so that's in there. One day I want to buy my own house. I would like to see the Northern Lights, and go on a big adventure.
What do you think happens when we die?
I don't know. I don't even try and think I could ever imagine, but I'd hope that whatever it is, it's peaceful.
When do you feel a sense that we live in the presence of something bigger than ourselves?
When I'm in nature. I was in Wales at the weekend, and whenever you're by the sea, or staring at fire, you zone out and become aware of the whole and not just your little life.
What do you try to bring to your relationships?
The important relationships you have, you need to be understading and supportive, but also a lot of laughs and being silly. Reminding the people you love how great they are is very important, we should celebrate because sometimes we forget.
My friends and family. I would like to think I'm quite grounded, maybe it's equally important to get carried away, too. Allow yourself to lose yourself in the moment, and whatever experiences come your way, make the most of them.
What was your last good deed?
I recently bought my brother a bow tie. He was buying a new suit, and he wouldn't buy a tie to go with it, so I bought it for him. It was my good sisterly deed.
'The Syndicate' will air from Tuesday 2nd June at 9pm on BBC One. Watch the trailer below...