It's a bold move, which the company's CEO Dave Lewis said was sparked by the fact he didn't feel "comfortable" with the masses of wasted produce - last year the chain threw away some 30,000 tonnes of edible food.
"Society is moving sideways to a more sustainable place despite the obvious problems in the world," says business owner Richard Gladwin. "Everyone should want to make a better environment, and due to over population in the world it needs people to work hard."
Richard, Oliver and Gregory Gladwin - three brothers hailing from West Sussex - have done just that. Their flagship restaurant The Shed in Notting Hill, which opened October 2013, combines fine dining with sustainability. Using produce from farms in and around West Sussex, the majority of the meat comes from the youngest brother Gregory's farm.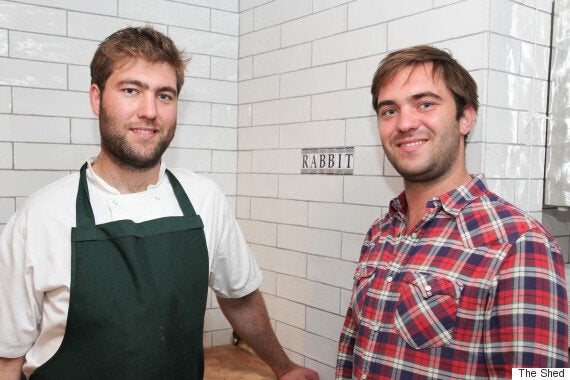 Oliver (left) and Richard at their King's Road restaurant Rabbit
"As three brothers, two of whom worked in restaurants, the other a farmer, we saw that we could create the farmer a second and regular income away from commercial farming," explains Richard, the eldest of the trio, who takes care of the business side of things. "Our passion to work together (and create another family business) was key, along with wanting to further farm-led restaurants."
The Shed serves a daily changing menu, based on what is seasonable and available, while The Rabbit, which opened autumn last year, puts its emphasis on sustainability.
Both restaurants are guided by a strict no-wastage policy, with Oliver adopting nose-to-tail cooking practices, ensuring every part of the animal is used where possible. The 29-year-old also strives to source all of the seasonal produce used from within 100 miles of London - and has been awarded three stars by the Sustainable Restaurant Association as a result of his efforts.
"Other food outlets, and the public, need to be thinking twice about how they use food," Oliver tells HuffPost UK. "No wastage is at the heart of our restaurant operation. By minimising wastage, we'll grow more successfully."
Oliver called the news France would be passing laws to ban supermarkets from throwing out food, a "great idea", and said he is "sure" Britain would follow suit.
"However," he adds, "there are already a lot of local charities in most people's neighborhoods that the public can use to send food wastage to."
So how do the brothers put this admirable ethos into their day to day practice?
First off, their lamb chips are coated in breadcrumbs made from yesterday's bread. The meat is composed of slow cooked belly, shoulder and shin - a dish invented primarily to use up the more unusual cuts from the animal.
The breadcrumbs themselves are a work of art.
"We soak the bread wastage each day in the beer from our taps – we then dehydrate them, and then that bread tastes deep, dark and in flavor of hops," Oliver explains. "We then serve the bread serve with our pigeon dish because pigeons eat barley which of course the beer is made out of…..again following our rule 'What grows together, goes together'."
The menu is split into "slow" and "fast" cooking, with every trim from the latter being used up in the former dishes.
"Because we practice whole animal butchery, another thing we do is with the flare fat (the fat that surrounds the kidney in the diaphragm of an animal – very good to make dumplings or steamed puddings).
"We render (cook at low heat to make solidified fat liquid) all the trimmed fat, and make a veal dripping emulsion. We then serve the raw shaved veal Carpaccio with the roasted beef dripping emulsion, and call it roasted with shaved raw veal Carpaccio – a play on words for a cooking technique using the whole animal."
The establishment's food is a far cry from what you'd imagine "ethical" food to be - vegan quinoa salads and vegetable pulps - but it's also miles away from the hearty, vigorous meat and two veg platters you might expect from the locally sourced, farm-grown food.
In complete contrast to the rustic, warming interior of The Shed, the food is delicate, and graceful, intricately presented on chunky farmhouse plates. It's a bold statement as to how a sustainable business can belong in the modern world.
"We run food-led operations where our dishes challenge flavours," Richard explains. "But again, we stick to that important philosophy: what grows together, goes together. Hopefully everyone who visits understands and likes this!"
Running an ethical business is all very well, but Richard insists people at home can do their own bit too.
"The easiest step to eating ethically is understanding and knowing your supply line, from your local butcher to grocer and eating fresh produce."
So what pearls of wisdom would the pair pass on other young entrepreneurs looking to set up their own food business?
"We work together as brothers. This allows us to always support each other, advise and create something new and exciting with one another. Also, a business partner who has a separate skill set to your own in extremely beneficial!"