Paul Katis may have been BAFTA-nominated for his stunning directorial debut, 'Kajaki', but it was the reaction of the war veterans depicted in his film that mattered the most.
"Veterans had been involved in writing the script," he tells HuffPostUK, of the project which was filmed in Jordan, and involved actors being trained by real paras. "Every bloke we interviewed gave it more richness, and in the case of those who are no longer with us, it was important to have their family on board.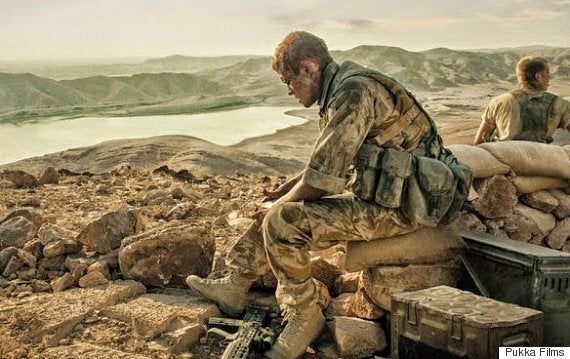 Kajaki tells the true story of the experience of a group of British soldiers, trapped in Afghanistan in 2006
"So when we came to screen it to veterans ahead of the premiere, there was definitely a lump in my throat. "We'd promised to represent them properly, not make them out to be heroes, but tell it straight. And to a man, they were happy with it, which meant a lot."
For Paul, 'Kajaki', which tells the grueling, true story of what happened when a group of British paras were marooned in an Afghan minefield in 2006, fills a big gap in our collective storytelling.
"There are no contemporary British war movies," he says. "We're happy making movies about World War II, but I'm fascinated by what these young lads experience now, and the media doesn't really tell us."
In the film, after one member of a three man patrol detonated a land mine, blowing off his leg, his fellow soldiers rushed to his rescue. Trapped in an unmarked minefield, a relic of the Russian invasion of the 1980s, they realise that any movement in and out risked certain injury and possible death.
Out of this harrowing day came extraordinary tales of bravery, selflessness and heroism, but also tragic consequences, for leader Corporal Mark Wright and his comrades, who risked their own lives to help each other.
Paul Katis remains insistent, however, that the film is not a 'message' one. "It's a questioning one," he says. "The public like to draw a veil of ignorance over what they ask men to do and what goes on out there.
"We're reasonably happy to to send them out, and reasonably happy to pick up the pieces afterwards, but we don't really know what goes on in the middle. And this film is trying to do its bit to fill that gap."
There are no big stars in this film, which Paul says was a necessity for the story.
"Apart from budget limitations, it was almost meant to an ensemble piece, with everyone the same," he says. "Plus, having a star sends a signal to the audience that he's likely to survive. And the reality for these guys was that you didn't know who was going to make it home, who was going to perish and who was going to step up and behave heroically."
'Kajaki: The True Story' will be released on DVD and Blu-Ray by Spirit Entertainment on 8 June 2015. Watch the trailer below...