Taylor Swift might think her recent 'Bad Blood' music video was the year's most star-studded, but Madonna could be about to put her to shame with the clip to accompany her new song, 'Bitch I'm Madonna'.
SEE MORE:
Madonna shared a post on her Instagram page on Thursday, teasing her fans with the news her 'Bitch I'm Madonna' video was "coming soon" (or as she put it "soooooooon "), adding: "With many surprise guests!"
She also tagged several celebrities in the post, suggesting they might be some of the "surprise guests" taking part in the video - and while Taylor's 'Bad Blood' clip left us scratching our heads over a few of the "celebrity" cameos, Madonna's looks set to be strictly A-list.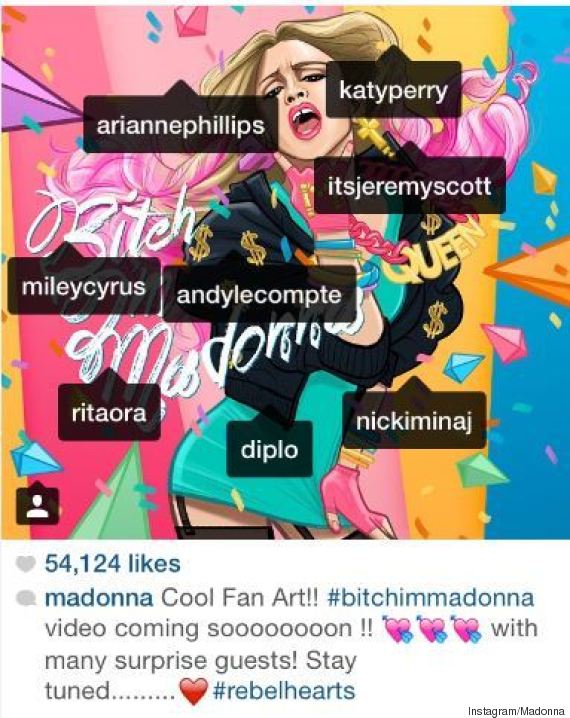 Madonna's Instagram post
Nicki Minaj, who also provides a guest rap on the track, appears to be making an appearance in the video, as does Diplo, who produced it.
Also among the potential guest stars are Miley Cyrus, Katy Perry and Rita Ora, the latter of whom, last month, was reported to be working with the Queen of Pop on a secret collaboration.
We're guessing Drake was otherwise engaged...
Over the past two weeks, Madonna has been teasing behind-the-scenes pictures from the video shoot on (where else?) her Instagram page, which show her sporting pink hair extensions and a grill.
When several comments of the comments on her posts made reference to her age, she angrily hit back at her detractors with yet another photo, writing in the caption: "I hope you are as fun-loving and adventurous as me when you're my age!!!! Hahahahaha let's see!"
Madonna gave a frenetic performance of the track when she gave an interview with Jimmy Fallon back in April, which featured cameo appearances from Diplo, her teenage son, Rocco, and - bizarrely - a sock puppet.
LIKE US ON FACEBOOK | FOLLOW US ON TWITTER