Guns, gallstones, death masks and hangman's ropes are going on display in an exhibition drawn from one of Britain's most macabre, and least-seen, museums.
For more than a century, the Crime Museum inside London police headquarters has been open only to Scotland Yard staff and invited guests.
Established in 1875 to help educate officers in the new field of scientific detection, it documents many of Britain's most notorious crimes, from the Jack the Ripper slayings to the Acid Bath Murders and the Great Train Robbery.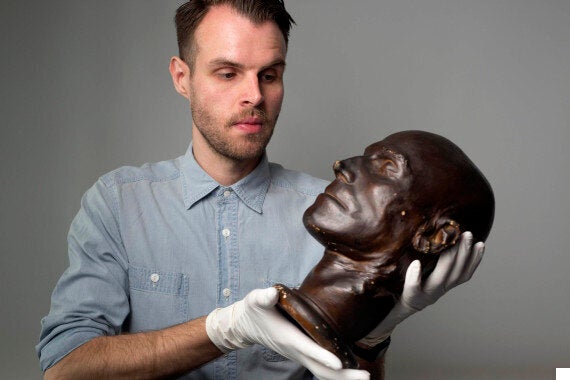 The Death mask of Daniel Good, executed outside Newgate prison on 23 May 1842 for the murder of his wife, Jane Jones
Hundreds of the objects will leave Scotland Yard for the first time as part of an exhibition opening in October at the Museum of London.
The museum on Thursday announced details of the show, which will include the death masks of criminals hanged at now-demolished Newgate Prison, a pistol used in an attempt to kill Queen Victoria and notes from a senior detective on the 1888 Jack the Ripper murders of women in London's East End.
Ordinary objects take on sinister meanings. A talcum powder tin turns out to have a secret compartment in which members of a suburban Soviet spy ring hid microdots. A pair of patched and frayed stockings was used to make masks worn by the brothers who committed a 1905 robbery-murder.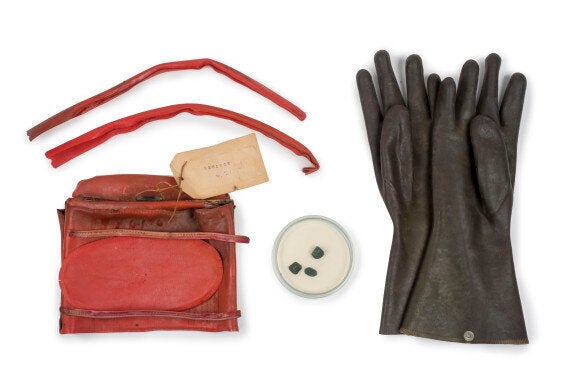 Some of the accessories used by 'Acid Bath Murderer' John Haigh
"A lot of these objects that we are displaying, they were concerned with murder, they are part of horrific events," said co-curator Julia Hoffbrand. "But many of them are very everyday, and they talk about people's lives."
One of the most chilling displays concerns "Acid Bath Murderer" John Haigh, a 1940s serial killer who dissolved his victims' bodies in sulfuric acid.
The exhibition includes the leather gloves and apron Haigh wore to dispose of wealthy widow Olive Durand-Deacon - and a few tiny, pebble-like objects found amid the stomach-churning sludge in his workshop. They are gallstones, the only part of Durand-Deacon to survive the acid. Haigh was hanged for murder.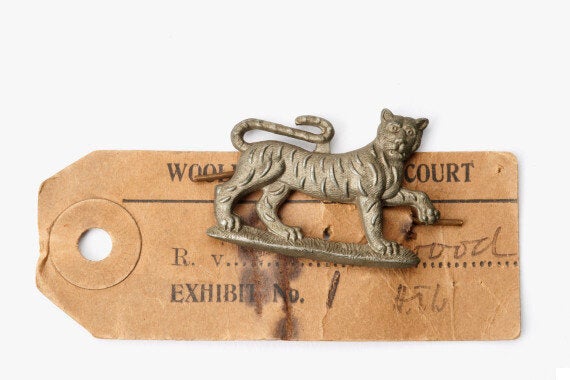 The badge of the Leicestershire Regiment that helped to convict David Greenwood of murder in 1918
On a less chilling note, there's an empty champagne bottle left behind in a hideout by perpetrators of a 1963 mail-train heist known as the Great Train Robbery. The robbers got away with £2.6 million (more than $60 million today) - but left fingerprints on the bottle and elsewhere. Most of the gang was soon rounded up.
One item missing from the exhibition is the ricin pellet, lodged on an umbrella tip, that killed Bulgarian dissident Georgi Markov on Waterloo Bridge in 1978. Hoffbrand said curators had hoped to include it, but it was not allowed to leave Scotland Yard because the case remains open.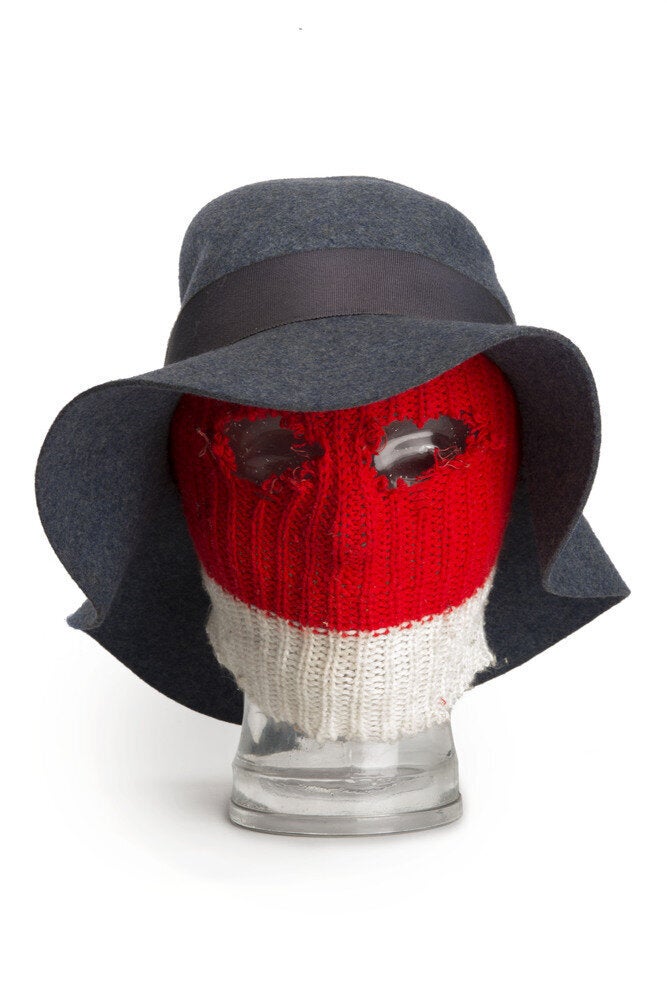 The Crime Museum Uncovered
Police and city hall officials hope the exhibition, which runs for six months from 9 October, will be the forerunner of a permanent public museum for Scotland Yard.
Assistant Commissioner Martin Hewitt said it was important to strike the right tone, and keep crime victims at the center of the story.
"What we do not want is something that's a macabre police version of going to the London Dungeon, a kitschy tourist attraction.
"I would be very disappointed if anyone comes away thinking were are glamorizing any of the people who have committed the offenses in this exhibition," Hewitt said.