The five things you need to know on Friday June 5 2015...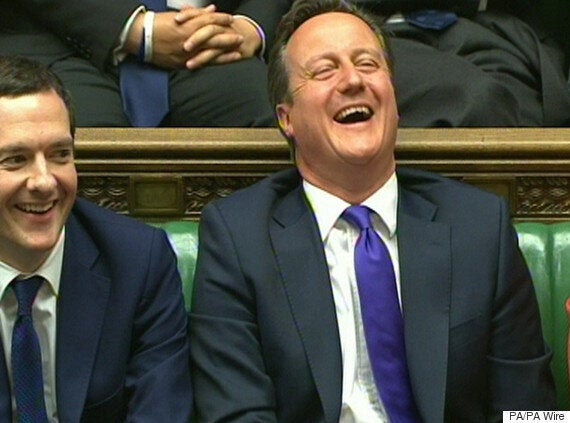 1) CHARITY DOESN'T BEGIN AT HOME
George Osborne was the axeman who cometh yesterday, unveiling £4bn in new savings and lopping £3bn off departmental budgets. But just days after it looked like No.10 was giving the nod to a 10% pay rise for MPs, the timing wasn't good. Trousering a nice wad at a time of austerity for others isn't exactly the 'we're all in it together' message the Government wants to project.
And, like zombies from the Thriller video, MPs' quotes from 2013 - when IPSA first proposed the 10% rise - are being disinterred by hacks and public alike. The Times has dug up this choice morsel from Michael Gove at the time: "Pay rise? They can stick it." Nicky Morgan this week answered the straight question with a straight answer, suggesting she would donate any rise to charidee,
Chris Grayling's letter to IPSA yesterday, warning them again not to go ahead with the rise, smelled very much like a U-turn. Only on Tuesday, No10 expressed a surprisingly new tone - at best fatalistic, at worst nonchalant - that if the independent body went ahead with bumper pay rises, well there was not a lot it could do about it.
The Telegraph reveals today that the PM himself told his Cabinet on Tuesday not to make 'public statements about giving the money to charity or things like that'. That may explain why the PM's spokesman said that he will take the rise. No.10 hopes the charity question will go away, but it will keep on coming back.
As for the Chancellor, he yet again displayed a Gordon Brown-like gift for theatrics by overshadowing his cuts with the surprise announcement of the Royal Mail sell-off. But the papers aren't letting him get away with it. The Sun and Telegraph are both unamused about the cuts to the defence budget.
It's the 40th anniversary of the UK's referendum on membership of the 'common market' and matters European abound in the news today. Greece's cheeky decision to play hardball and withhold a 300m euro debt repayment (which makes the Guardian and FT splashes) is a reminder that this is one can that keeps on being kicked down the road. The Tsipras goverment is muttering darkly that if Brussels and the IMF don't like it, they can lump it in the form of a snap election or even a referendum.
Greece is the perfect foil for George Osborne's own austerity plans (look what happens when you don't get a grip on your debts folks). But David Cameron's own EU renegotiation and referendum plans continue to meet bumps in the road.
Nigel Lawson last night repeated on Newsnight his belief that any changes Cam gets from Brussels will be 'inconsequential, of no significance at all' and that the UK is heading for another 'Yes' vote.
Some papers pick up on yet more warm words from Angela Merkel to the BBC that when it comes to treaty change 'if that is really necessary then we have to consider it'. But she added that she was 'not losing sleep over this'. That may fuel the suspicions of Eurosceps that little real change is going to happen.
The Mail has a nice tale that the PM is prepping for a Europe referendum as early as May 5 next year. Cameron has overruled the Electoral Commission advice that any vote would clash with elections in Scotland, Wales, English councils and London. The Mail says Tory whips have told MPs that the referendum campaign that could be as short as 16 weeks.
As for Labour tactics in a referendum, don't forget it is worried about UKIP. The Times pursues reports of the Shadow Cabinet's splits as people like Andy Burnham, Yvette Cooper and Michael Dugher worry about cosying up to Cameron in a joint Yes campaign. But Alistair Darling tells the paper it would be a 'massive mistake' to shun a cross-party effort, adding the SNP tsunami was more about Labour's own failures than Better Together's.
It's not often you can say the UK is doing better than the States. But our employment rate is now higher than the US's. Indeed if the US had the same rate as us, there would be 10 million more people in jobs over the pond.
A new study by the Resolution Foundation has found that workless family rates in Britain are their lowest for 30 years. The idea that the US is a booming jobs-filled economy while we are a welfare-dependent backsliders has been turned on its head. For all Bill Clinton's warm words on the issue, American single mothers' unemployment rates have gone up, not down.
What's driving the change is the great success Britain has had in getting women into the workplace, thanks to a combination of more childfriendly workplaces, tax credits, schemes to get lone parents into employment.
Writing for HuffPostUK, Gavin Kelly warns that any attempt to cut tax credits could undermine all the good work done since the 1990s. Note that Ed Miliband put down a clear marker yesterday that he would oppose cuts to tax credits and any "harsh brutal and brutalising" welfare reforms.
But the Resolution Foundation analysis is also sure to be seized on by Iain Duncan Smith's team as proof that he's making a difference in getting people off welfare into work. Indeed many Republicans in the US are looking closely at how the UK has pulled off its transformation. Paul Ryan has told IDS that 'you're ten years ahead of us, but that's where we should be heading'.
BECAUSE YOU'VE READ THIS FAR...
Check out this cute pic of Barack Obama and a White House 'rugrat'.
Also, watch Damian Collins' YouTube video promoting his bid to be chairman of the DCMS Select Committee. It's a digital first alright, featuring Prince Harry and even Alan Rusbridger. Most MPs prefer discreet chats in the tea room or Portcullis House (and the lobbying has been fierce this week) but you can't fault his transparency.
Ed Miliband's self-deprecating speech yesterday was well received by by all sides of the House (Tory backbenchers came up to him afterwards to praise him). But it was also a reminder of the need to move on.
Yvette Cooper is in Scotland today, the first Labour leadership contender to enter the lion's den. She's citing her Inverness born roots and work for John Smith. Will it be enough to counter what could be a very rough ride? Her camp is certainly pleased at the way she responded to Prince Charles's spider letters, compared to Andy Burnham's more deferential tone.
The Guardian meanwhile is continuing to look back on Labour's election campaign woes. It reports that Miliband's decision to insert a new front page to the party manifesto - for a fiscal responsibility 'lock' - caused uproar among some. Jon Cruddas and Angela Eagle were kept out of the loop and Jon Trickett was furious that this all came after the Clause V meeting to approve the manifesto.
"In the end, the document was subordinated to a statement about a programme of austerity," he says. Sounds like the party still hasn't sorted out just where it wants to go on this central issue.
In the Deputy Leader race, Tom Watson is stepping up the pace. His website is offering the prize of tickets to the London Fashion Week show of celeb designer Katie Eary - in return for a £10 donation to his campaign.
5) SOCIAL MEDIA BEHAVIOUR ORDERS
The NSPCC has hit hard at Facebook's decision not to remove a clip from its site showing a "terrified, sobbing baby" being repeatedly dunked into a bucket of water. David Cameron has called out Facebook before about terror posts, will he do so again today?
Over in the US, there's been a huge hack of Government workers' details. But the whole issue of what can and can't be done to govern the online space is a tricky one.
John McAfee has been on the Today prog criticising the UK's plans to let security agencies access data held by US web giants. Yet the Indy picks up on a quiet announcement yesterday that Whitehall has unveiled its very first contract to
monitor what people Tweet, post and blog about the Government. Five firms have been approved to keep an eye on Facebook, Twitter and blogs and provide daily reports to Whitehall on what's being said in "real time". Ministers, their advisers and officials will provide the firms with "keywords and topics" to monitor. The lovely-sounding Human-Driven Evaluation and Analysis system that will allow them to see "favourability of coverage" across old and new media. You have been warned.
Got something you want to share? Please send any stories/tips/quotes/pix/plugs/gossip to Paul Waugh (paul.waugh@huffingtonpost.com), Ned Simons (ned.simons@huffingtonpost.com), Graeme Demianyk (graeme.demianykt@huffingtonpost.com) and Owen Bennett (owen.bennett@huffingtonpost.com)