Virgin Money has announced the launch of a range of Sex Pistols-branded credit cards, featuring artwork from their iconic punk albums.
With the slogan: "Never mind the bollocks, here's the new Virgin Money credit card," director of cards, Michele Greene, hopes that the new cards will stand out against other UK banks.
She said: "For a long time now, UK banks have all been the same. They have the same products, the same services and the same attitude towards customers. At Virgin Money, we are aiming to change that.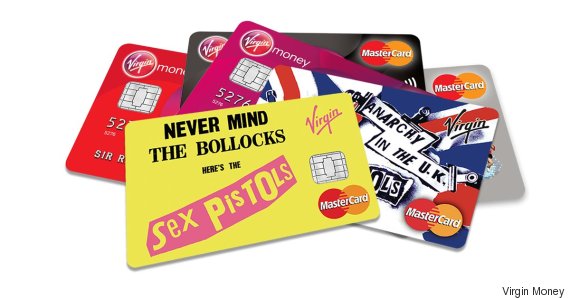 "In launching these cards, we wanted to celebrate Virgin's heritage and difference. The Sex Pistols challenged convention and the established ways of thinking - just as we are doing today in our quest to shake up UK banking."
However, not everyone on Twitter is as fond of the idea, given that the Sex Pistols spent years rallying against consumerism...
Yes that's right, punk is dead,

It's just another cheap product for the consumers head. pic.twitter.com/JXW0wBXtJI

— Topper (@LucasMansell98) June 9, 2015
So THE SEX PISTOLS are now appearing on Virgin debit cards? Punk is officially dead, they dragged it outside and crucified it.

— Neil Michael Burke (@NMBurkeWriter) June 9, 2015
There's a Sex Pistols credit card. Great. We live in an age so completely Tory & depressing, the Sex Postols are trying to mis-sell me PPI.

— Liz Buckley (@liz_buckley) June 9, 2015
I am an anti-Christ-a / I am an anarchist-a / Dunno what I want but I know how to get it / With a Sex Pistols credit card / Available now

— Andy Kelly (@ultrabrilliant) June 9, 2015
Sex Pistols have designed a credit card with Virgin Money.... #NowThatsWhatICallAntiCapitalism

— ashley eaton (@ageaton) June 9, 2015
In case anyone was unsure whether punk had died some time ago, Virgin Money have released a Sex Pistols credit card. pic.twitter.com/V6weJ1G7a9

— Tom Knowles (@tkbeynon) June 9, 2015
BUT punk might not be dead just yet -- some Twitter users are saying that the outrage at the Sex Pistols' logo on a credit card is, in fact, quite punk in itself.
The outrage over the Sex Pistols credit card is what vindicates it. Genuinely punk move.

— Tom Doran (@portraitinflesh) June 9, 2015
That #SexPistols credit card is an amusing riposte to all those years of earnest essays by rock bores on the "meaning" of punk.

— Paul Kirkley (@prkirkley) June 9, 2015
Richard Branson hopes that the new cards will highlight Virgin's proud musical history.
He said: "The Sex Pistols are an iconic band and an important part of Virgin's history. Virgin Money is a bank that can be proud of its past, and I love the fact that the team have chosen to celebrate it in this way.
"Even after nearly 40 years, the Sex Pistols power to provoke is undimmed, and we are still being asked to censor the word bollocks in our advertising. Over the years many things have changed, but in this case some attitudes clearly do not."