A young woman had an extra special guest watch her graduate - the fireman who saved her from a burning house when she was just nine months old.
Dawnielle Davison was lying in her crib when Mike Hughes burst in and rescued her from the fire 17 years ago.
Hughes, who was a captain with the Wenatchee, Washington, Fire Department told ABC News: Our engine pulled up and the whole interior part of the house was burning heavily. My partner and I went in and I got a call on the radio that they suspected somebody was in the house.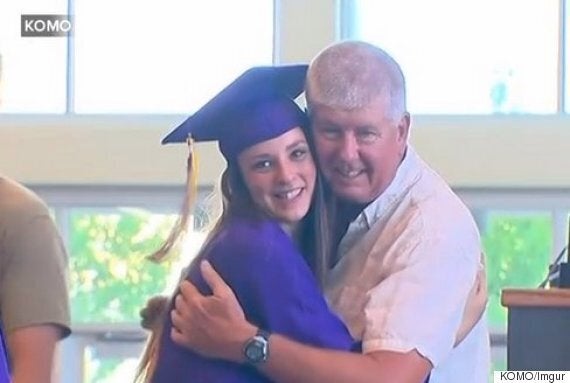 Dawnielle and Mike at her graduation
"I went straight to the place in the house that I thought I'd find somebody. The door to the bedroom was partially open and she was in her crib just squirming so i snatched her up and got her to the front door and handed her off to the first firefighter who was there."
Years later, Hughes tracked Davison down on Facebook to check up on her, and messaged her saying: "I think I pulled you out of a fire when you were a baby."
Davison kept in touch with her rescuer, even inviting him to some of her sports events.
This month, the teenager sent a message to the retired fireman asking if he would like to attend her big day.
"She sent me an invitation so I thought, 'By golly, I'm going'," Hughes said "It meant an awful lot to me. I was really happy."
Related