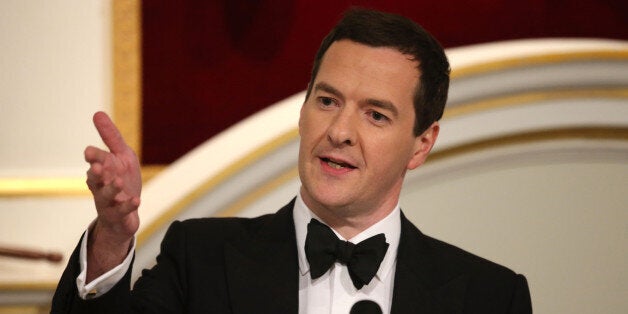 Taxpayers are set to make a £14bn profit from the bank bailouts, George Osborne declared tonight as he confirmed the Government sell-off of the Royal Bank of Scotland.
In his Mansion House speech in the City of London, the Chancellor said he had been advised that it was now 'in the public interest' to offload the RBS shares.
But he faced an instant backlash for starting the 'firesale' after he admitted that the RBS deal would result in a £7.2bn loss, based on current share prices.
Mr Osborne published an independent review by Rothschild's which concluded that starting the sell-off would be good value, despite the loss incurred.
Rothschild's report shows that if the government sold all its remaining shares in all the banks - Lloyds, RBS, Bradford & Bingley and Northern Rock Asset Management - taxpayers would get back over £14 billion more than they put in.
The calculation, which takes into account the fees and other proceeds from the banks as a result of the taxpayer's support during the financial crisis, would mean a big windfall for the Chancellor.
And the £14bn profit figure contrasts with government estimates in 2009 that losses could be between £20 billion and £50 billion.
Mr Osborne said that Bank of England Governor Mark Carney had also advised that it would be appropriate to start the sale of the Government's 80% shares in RBS.
The Chancellor said the "decision point" has been reached, which means that sales of the taxpayer's stake in RBS will begin in the coming months.
Mr Osborne acknowledged that he would face criticism for the faster-than-expected sale, but claimed that waiting for the share price to rise was the wrong option.
"Do we begin the process of selling down the government's huge majority stake, even though the share price is still below what the last Chancellor paid out seven years ago? Or, do we hope against hope that something will turn up?" he told his City audience.
"Frankly, in the short term the easiest path for the politician is to put off the decision and leave it to someone else at some future time to pick up the pieces.
"I'm not interested in what's easy – I'm interested in what's right."
A letter from Mr Carney, released tonight, declared that "it is in the public interest for the government to begin now to return RBS to private ownership".
The privatisation "would promote financial stability, a more competitive banking sector, and the interests of the wider economy", while "there could be considerable net costs to taxpayers of further delaying the start of a sale".